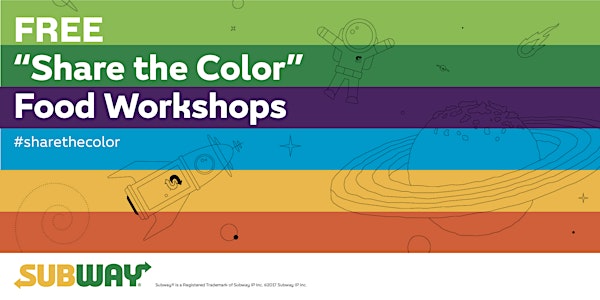 FREE Hands-On Family Food Workshop - Florence-Myrtle Beach, SC Area
Description
Subway® and local food and nutrition experts will celebrate World Food Day by helping area families learn about "better for you" food choices. Workshops will be held in area Subway® Restaurants during October 16th-21st, see locations below for workshop near you.
The "Share the Color" food workshops are FREE for everyone and designed to teach children how to make better food choices and the importance of making colorful fruits and vegetables part of their daily meals and snacks. Children will participate in a hands-on sub making activity and enjoy a free nutritious lunch. Children will also receive a take-home food explorer coloring book.
Jamie Kandora will lead the food workshops in Florence and Myrtle Beach. Registered dietitian Stephanie May, also with Tidelands Health, will share her nutrition expertise with families in Murrells Inlet. Ashlinn Naseman, clinical dietitian with Carolinas Hospital System-Marion, will present at the sub shop in Marion.
Space is still available and registration is required. Because space is limited, please let us know if your plans change and you are unable to attend.


Share the Color Food workshops will be held at the following locations and times:


Monday, October 16, 2017
9:30-10:30 a.m.
Subway Restaurant
1945 10th Ave N
Myrtle Beach, SC 29577
---
Tuesday, October 17, 2017
9:30-10:30 a.m.
Subway Restaurant
2884 N Williston Rd
Florence, SC 29506
---
Thursday, October 19, 2017
9:30-10:30 a.m.
Subway Restaurant
2533 E Hwy 76
Marion, SC 29571
---
Saturday, October 21, 2017
10:00-11:00 a.m.
Subway Restaurant
10799 Hwy 707, Unit 11
Murrells Inlet, SC 29576
Click here to see which workshop is closest to you.
Click "register" above to reserve your family's spots at your desired location (please reserve one spot per attendee; parents and children must reserve a spot).