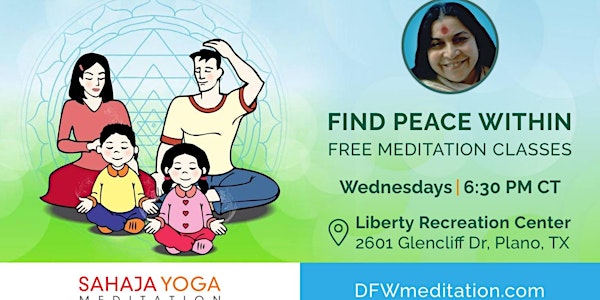 Multiple dates
FREE Guided Meditation Sessions in Plano, In-Person
In Person: Guided Meditation Sessions in Plano
By Sahaja Yoga Meditation DFW
Date and time
March 1 · 6:30pm - February 21, 2024 · 7:30pm CST
Location
Liberty Recreation Center 2601 Glencliff Drive Plano, TX 75075
About this event
Join us for In-Person Guided meditation course in Plano
Address:
Liberty Recreation Center,
2601 Glencliff Dr, Plano, TX
Just 5-10 minutes of daily meditation can bring tremendous positive changes in life including stress relief, peace of mind, and overall sense of well-being and better health in general.
Guided Meditation , 7 energy centers, 3 channels .
How to meditate at home and balance your inner being.
How to balance left and right sympathetic channel
Introduction & Guided Meditation - Self-Realization. How to meditate at home
Learning to balance yourself, info about energy centers.
Foot soaking introduction and its benefits, workshops
Guided Meditation , reducing stress exercise, Ice pack treatment and its benefits,
About the organizer
Sahaja Yoga Meditation is good for the heart, mind, body and soul. It reduces stress and increases wellness. While revitalizing the Inner Energy, it helps you achieve a state of Thoughtless Awareness when your mind is calmed. You'll enjoy better focus and balance. Anyone can do it!
Learn to meditate and feel the peace with the help of Sahaja Yoga Meditation. Tapping into and raising your inner energy can significantly help improve your quality of life on multiple levels; reducing stress and increasing physical, mental, and emotional health and balance. Feel the peace and relaxation through this simple technique. Come try for yourself!