Description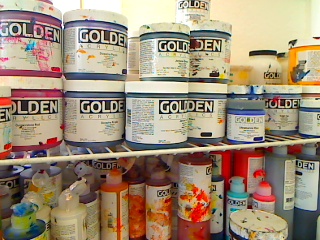 You've heard about it. Maybe you've even seen it once or twice, The Golden Lecture.
Want to have your mind blown about acrylic paint?
Want to get more information than you ever dreamed possible in 90 minutes?
Want to ask a bona fide acrylics expert some tough painting questions?
Come on down!
In this jam packed lecture, I will cover a ton of information about the amazing Golden Artist Colors product line. Grounds, gels, mediums - paint that flows, paint that's thick, paint that's thin. Shiny, matte, stringy - you name, I'm gonna talk about it. Technical information too. How to extend your paint without losing quality. Slow down the drying time, or maybe speed it up. Pour it, brush it, fling it. Roll it up and make sculpture. What do you want to know about acrylic paint? Just ask.
Oh and you'll get a beautiful folder of written information and a nice goody bag of samples too!