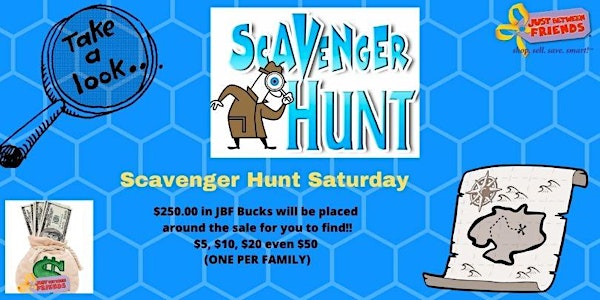 FREE General Admission Saturday September 17th 8am-2pm
Location
Robbinsville Field House
153 West Manor Way
Robbinsville, NJ 08691
Walk ins are always welcome!
About this event
Saturday September 17th, 2022
8am-2:00pm
We understand, kids are expensive and they grow fast. So we created a community event where you can shop over 100,000 name-brand items, at 50-90% off retail. Saving you money and time, because all the best deals are found under one roof. 
You don't want to miss this shopping extravaganza!  You do not need a ticket to get it so bring all of your friends!  Signing up will get you on our email list for coupons and reminders!!
Want to shop BEFORE we open to the public? Check out our exclusive Presale Event! GET YOUR EARLY SHOPPING TICKETS HERE:
Friday, September 16th
9am I Elite Shopping Pass $25.00 Click HERE
10am I Premium Shopping Pass $15.00 click HERE
11am I Prime Time Shopping Pass $10.00 Click HERE
12:30 I First Time Parents/Grandparents - FREE Click HERE
1:30 I Hometown Heroes (Teachers, doctors, nurses, military, EMT) Click HERE
OPEN TO THE PUBLIC | FREE PASS 2:30PM-8PM Click HERE
Saturday, September 17th
8am-2pm OPEN TO THE PUBLIC - FREE PASS Click HERE
3:30-6:00pm Half Off (50%) off Pre-Sale Shopping Pass - $5(for you and a friend) click HERE
Sunday, September 18th
8am-1pm OPEN TO THE PUBLIC - HALF OFF DAY ( Most Items are 50% off) No ticket needed!! Walk-ins always welcome!!
Reminders…
Children welcome during Public shopping hours, Pre-Sale Tickets children must be in a stroller or strapped to you. JBF is only twice a year, don't miss it! TELL ALL YOUR FRIENDS !!