FREE Games Down, Activities Up, Health & Wellness Fair, Breast Cancer Walk

Saturday, October 13, 2018 from 9:00 AM to 3:00 PM (EDT)
Event Details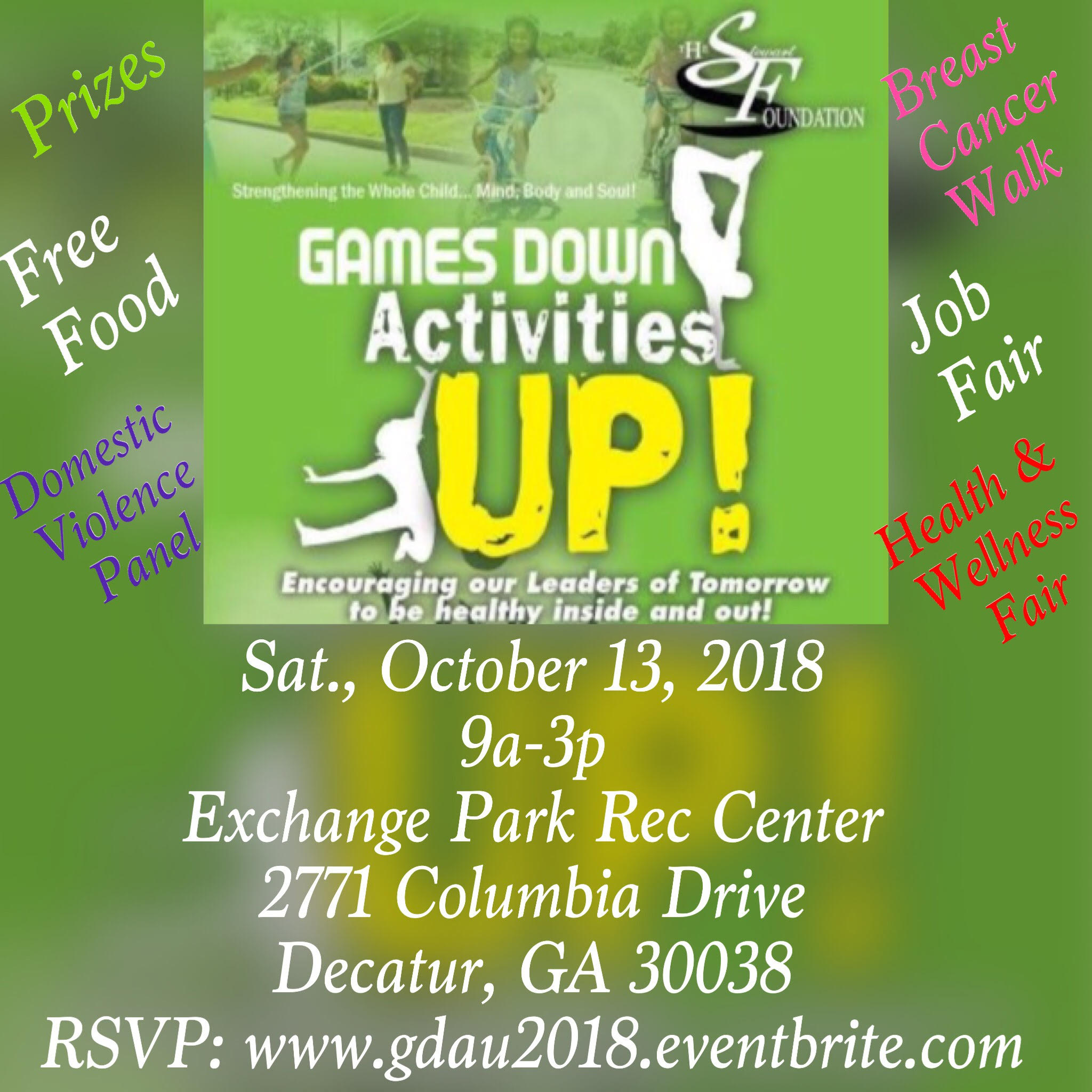 Please arrive by 8:30am for registration. 
9am-10am:  Breast Cancer Awareness Walk 
9am -3pm:  WorkSource (Job Fair) 
10am-12:30pm: Health Fair & Games Down, Activities Up 
1pm-2pm:  Awards Ceremony & Closing Announcements
1pm-2pm:  Domestic Violence Awareness Panel (adults)
2pm-3pm:  Breakout Session for Domestic Violence Awareness (adults)
PUT YOUR GAME FACE ON, VIDEO GAMES DOWN
& ACTIVITY LEVELS UP !!  
FREE HEALTH FAIR ALSO OPEN TO THE PUBLIC !
MUST REGISTER 
BREAKFAST & REFRESHMENTS INCLUDED
TOP YOUTH PARTICIPANTS WILL HAVE A CHANCE TO WIN GREAT PRIZES.  
ADULT VOLUNTEERS NEEDED.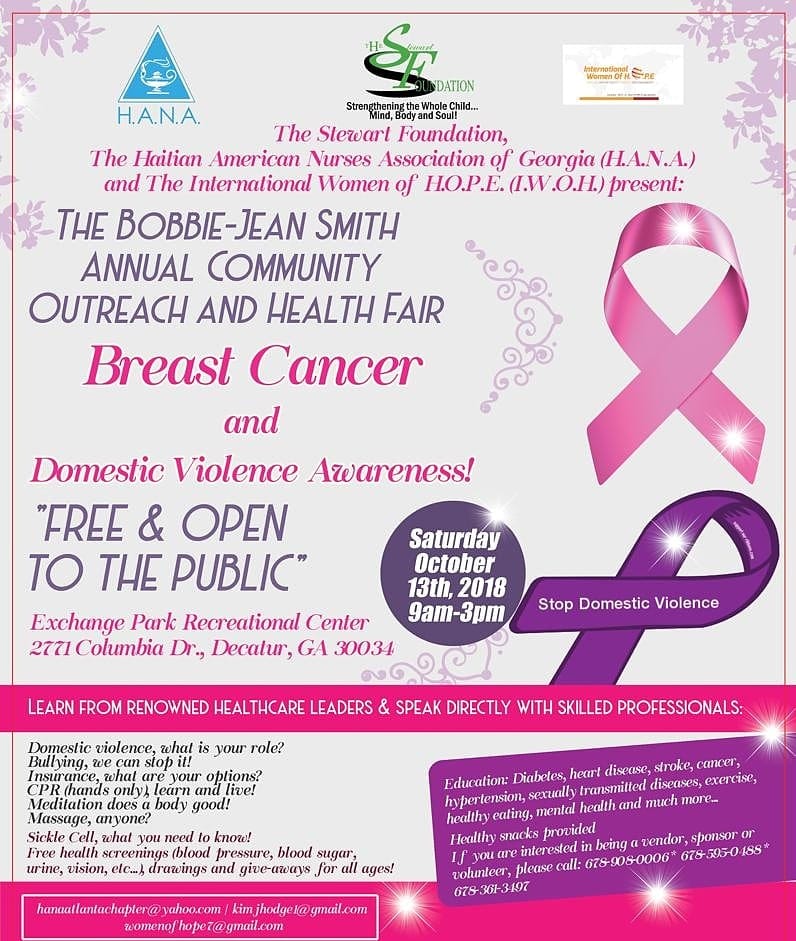 Parent Communication
The Stewart Foundation is preparing to embark on a new program year!   We are always working on creative ways to keep all events FREE of charge. The Board has determined that we will allow up to 2 RSVP/No Shows after which time we will remove your name from our list for a period of 6 months. While we understand that life happens, your timely communication, regarding attendance to our events, is appreciated so that we can plan accordingly, and avoid unnecessary cost.   We appreciate your continued support as we work to deliver another exciting year of excellent youth programs.
Kind regards,
The Stewart Foundation Board
Please do not register if you do not agree to terms below.  
GENERAL RELEASE AND INFORMED CONSENT AGREEMENT
THE STEWART FOUNDATION 
I, a guest or member of The Stewart Foundation (TSF) of Atlanta, Georgia, declare that I voluntarily enrolled and intend to use the facilities and services offered by TSF.  I understand that each person has a different capacity for participating in such programs and services.  I understand that the programs and services offered by TSF are optional and may be recreational in nature and I assume full responsibility, during and after my participation, for my choices to use the facility and participate in the structured programs or recreationally activity conducted by TSF.
I understand that part of the risk involved in undertaking any physical activity or program is relative to my own state of fitness or health (physical, mental or emotional) and to the awareness, care and skill with which I conduct myself in that activity or program.  I acknowledge that my choice to participate in any program at TSF brings it with my assumption of those risks or results stemming from this choice and the fitness, health, awareness, care and skill that I possess and use.
I further understand and acknowledge that TSF has no responsibility to detect factors that may increase the risk of illness or injury for particular participants in its exercise program. 
In consideration of the benefits I will receive from TSF's program, I on behalf of myself, my heirs and personal representatives, hereby knowingly and voluntarily agree to waive and release TSF and their agents, staff and all other representatives from any and all liability, loss, cost, damage, expense, claim or suit whatsoever (collectively "claims") for any damage resulting from or related to my participation in the recreational activities and programs of TSF.  I specifically understand that I am waiving and releasing any claims I may have presently or in the future for the negligent acts or other conduct of TSF or its representatives.  I further agree to indemnify and hold harmless TSF and its representatives from and against any and all third party claims arising as a result of my participation in TSF recreational activities and programs.
When & Where

EXCHANGE PARK RECREATION CENTER
2771 COLUMBIA DRIVE
Decatur, GA 30038


Saturday, October 13, 2018 from 9:00 AM to 3:00 PM (EDT)
Add to my calendar