With travel opening up again, where can you go, what can do, and what's the best way to get to the fun??? Get expert assistance for FREE!
About this event
When and where to get away????
Aruba, Jamaica, Cabo??? Cruise liner or quick flight to a luxury resort???
Europe, Asia, Australia???? Join a tour or self guided excursion???
Or where are deals to just enjoy the good old US of A???
You can spend days searching the internet and HOPING you got a good deal or get expert assistance from a travel agent -- at no cost for their service!!!
Pop-in to the Fun in Sun Pop-up and Ask the Travel Agent -- for FREE!
Event also features handy travel products from Deja Pure, Devy Mortals, Color Street, LulaRoe, Missy & Me, J&H Design Company, Mary Kay Sun Care, and a FREE voucher for a BYOB Wine & Art class to get you in the travel mood just for visiting the Pop-Up!
New to BYOB (Bring Your Own Business) Creative Connections? Check us out at https://www.BYOBcc.biz. Note that we are ideally located in the Cypress Point Shopping Center at the corner of Diamond Springs Road and Wesleyan Drive, plenty of parking, and convenient restaurants!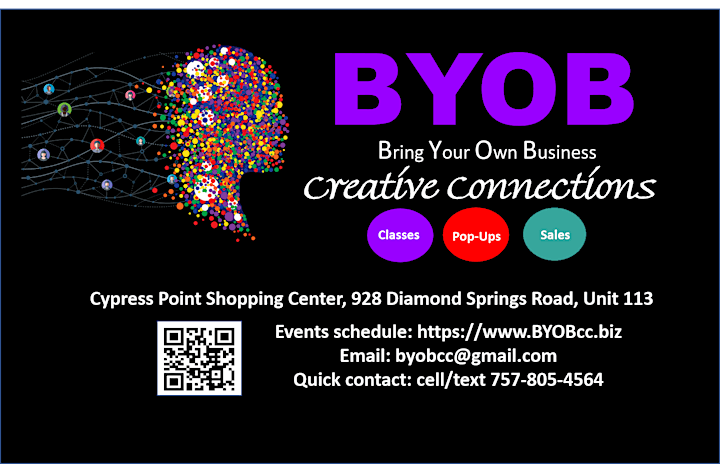 Organizer of FREE: Fun in the Sun Pop-Up featuring "Ask the Travel Agent"!