Event Information
Location
Brightest Solar
APPOINTMENTS IN YOUR HOME
Charleston, SC 29401
Description
Brightest Solar in Charleston is offering in-home seminars called "Sweet Solar Sunshine" to help homeowners analyze if solar is the right choice for them. Your past electric bills are analyzed, along with the layout of your roof and the hours it obtains sunshine. Going solar is to the benefit of a majority of Charleston residents, for the US federal and local SC state governments are offering tax benefits to those who make this choice. Why not find out if it's right for you?
You may also wish to attend our February 18th event at The Schoolhouse which is also FREE and fun for the entire family!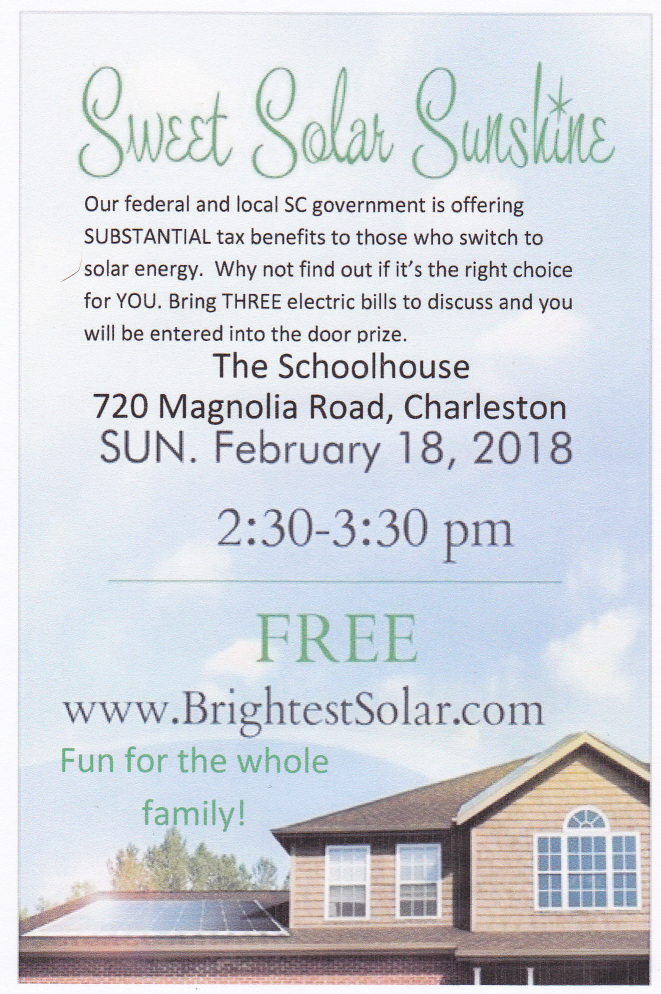 Contact owner, Rob Dodge, to set up an in-home appointment today.
Rob Dodge: 888-511-8088 http://www.brightestsolar.com
brightestsolar@gmail.com
Video: https://www.youtube.com/watch?v=Yen9EH6XEs4
Date and Time
Location
Brightest Solar
APPOINTMENTS IN YOUR HOME
Charleston, SC 29401