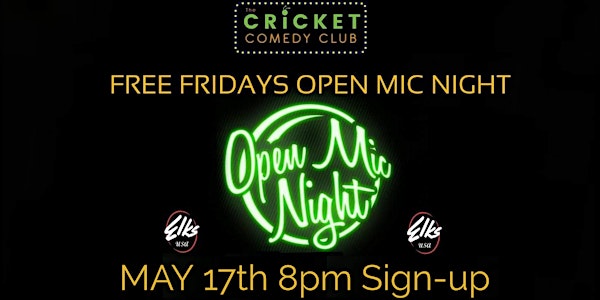 Free Fridays Comedy Open Mic Night
When and where
Location
The Cricket Comedy Club 240 W Prospect Rd Oakland Park , FL 33309
Description
---
This FREE FRIDAYS Open Mic Night
Is hosted by The Cricket Comedy Club in The Benevolent Oakland Park Elks Lodge #2407, on FRIDAY MAY 17th,
Doors Open 8pm (For Sign-up)
Our Hall seats 100 comfortably, with a Full Bar, good lighting and a nice sized stage, for that "Real Comedy Club" feel.You, and your guests, are cordially invited to our Hall for a charitable, fundraising membership drive and FREE Friday Comedy Only Open Mic Night.
---
CASH BAR ONLY
ATM AVAILABLE

Food Availability-
$5.00 Hotdog, chips and soda baskets will be served this night, just order through waitstaff.
---
Friday May 17th 2019
*Doors Open at 8:00 pm*
*Show starts Promptly at 8:30 pm*
BPOE
Oakland Park Elks Lodge #2407
240 Prospect Rd.
Oakland Park, Fl.
33309
---
* Performers: There is a Club Rule, of 1 Drink per person purchase required, as a donation towards The Elks Lodge, in exchange for their stage time.
* ALL GUESTS (including guests of performers) get FREE ADMISSION, because we STRONGLY encourage you to allow your friends and family to join you at our club, to cheer you on, and give you the True Comedy Club atmosphere you deserve to practice and hone your craft. We merely "suggest" that all guests help support the venue by purchasing beverages.
CASH BAR ONLY
Special activity membership drive, and Charitable event fundraiser.
Thank you,
Management.
---
Also Please, LIKE our Facebook page &
SUBSCRIBE to our Monthly Contests on our webpage.
And give us
⭐⭐⭐⭐⭐5 star reviews and recommendations on Facebook and YELP. Follow us on TWITTER, Tumblr, and Linkdin.
#Oaklandpark #NewTimes #Ftlauderdalebeach #Coralsprings #FortLauderdale #CoralSprings #Pompanobeach #Deerfieldbeach #TheCricketComedyClub 3comedy #comedyclub #Ftlauderdalecomedy #SouthFloridaevents #events #Fridaynight #SouthFloridaSunSentinel #Browardnewtimes #Browardevents
@FtLauderdalebeach
@FortLauderdale @SouthFloridaSunSentinel
@BrowardNewTimes @Deerfieldbeach @BocaRaton @FtLaudeats @Funkybuddhabrew