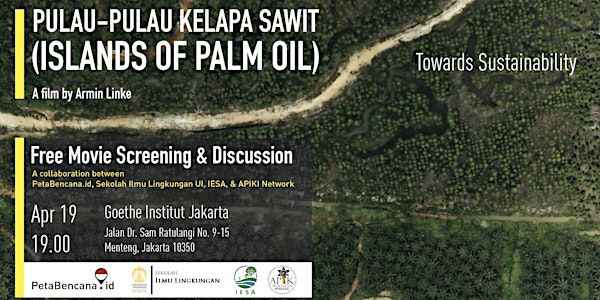 [FREE] Film Screening: Islands of Palm Oil
Event Information
Location
Goethe-Institut Jakarta
Pusat Kebudayaan Jerman Jakarta
Jalan Dr. Sam Ratulangi No. 9-15
Menteng, Daerah Khusus Ibukota Jakarta 10350
Indonesia
Description
About "Islands of Palm Oil"
Traveling through Borneo, Java, and Sumatra, photographer and filmmaker Armin Linke—together with his colleague Giulia Bruno, Anna-Sophie Springer, and Etienne Turpin—conducted numerous interviews with local residents, plantation workers, small landholders, environmentalists, government officials, and scientists. The result is a cinematic document revealing various perspectives on the expansion of palm oil production in Indonesia. This film is first time screened at "Disappearing Legacy: The World as Forest" exhibition on 10 November 2017 - 29 March 2018 in Hamburg, Germany.
Duration: 1 hour 35 minutes | Language: English and Indonesian | Subtitle: English
A discussion session will be followed after the screening.
---
Tentang "Pulau-Pulau Kelapa Sawit"
Menjelajahi Kalimantan, Jawa, dan Sumatra, fotografer dan pembuat film Armin Linke-bersama dengan rekannya Giulia Bruno, Anna-Sophie Springer, dan Etienne Turpin-melakukan banyak wawancara dengan penduduk setempat, pekerja perkebunan, pemilik lahan kecil, aktivis lingkungan, pejabat pemerintah, dan para ilmuwan. Hasilnya adalah dokumen sinematik yang menunjukkan berbagai sisi dari perkembangan kelapa sawit di Indonesia. Film ini pertama kali ditayangkan pada pameran "Disappearing Legacy: The World as Forest" 10 November 2017 - 29 Maret 2018 di Hamburg, Jerman.
Durasi: 1 jam 35 menit | Bahasa: Inggris dan Indonesia | Subtitel: Inggris
Sesi diskusi akan dilaksanakan setelah pemutaran film.
Date and time
Location
Goethe-Institut Jakarta
Pusat Kebudayaan Jerman Jakarta
Jalan Dr. Sam Ratulangi No. 9-15
Menteng, Daerah Khusus Ibukota Jakarta 10350
Indonesia