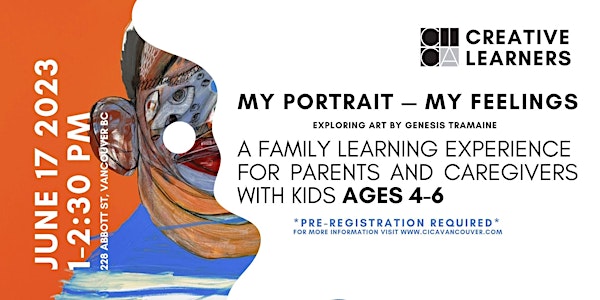 Free Family Portrait Workshop (Kids 4-6)
Join us for a free family art event!
Date and time
Sat, Jun 17, 2023 1:00 PM - 2:30 PM PDT
Location
CICA Vancouver 228 Abbott Street Vancouver, BC V6B 2K8 Canada
About this event
1 hour 30 minutes

Mobile eTicket
The CICA Creative Learners program is an initiative led by the gallery to encourage families to explore contemporary visual art practices together. This program offers parents and caregivers the opportunity to learn and engage with their children. The Centre of International Contemporary Art will open its doors once a month for special events that will include access to internationally renowned exhibitions, a guided tour designed to create learning opportunities for visitors of all ages, hands-on art activities led by artists and educators, and customized worksheets and lessons for gallery and at-home learning and play.
All children must be accompanied by an adult.
RSVP is required as space is limited
This is a free event
Overview:
The "My Portrait, My Feelings" family art lesson is a delightful and interactive experience designed for families with children aged 4-6. This engaging workshop offers an opportunity for young children and their families to explore and express their emotions through the captivating art of Genesis Tramaine. Through creative activities, storytelling, and artistic exploration, families will embark on a journey of self-expression and emotional discovery.
What's included:
Activities include free access to the exhibition, a family-friendly guided tour to create learning opportunities for multigenerational visitors, and hands-on art-making opportunities led by artists and gallery educators. Educational materials will also be provided for free on our website and can be printed by parents at home in preparation for their visit if they wish to engage in learning activities on their own with their children.
Objectives:
Foster emotional intelligence and self-expression in young children, encouraging them to identify and communicate their feelings in a creative way.
Introduce young children to the concept of art as a tool for emotional exploration and self-reflection.
Cultivate an appreciation for the diversity of emotions and promote empathy and understanding.
Develop fine motor skills and creative thinking through art-making activities.
Join us for an enriching and inspiring family art lesson where we celebrate uniqueness, encourage self-expression, and explore the diverse world of art through the captivating lens of Genesis Tramaine. Get ready to embark on a journey of self-discovery and creativity as we create our own identity portraits together!