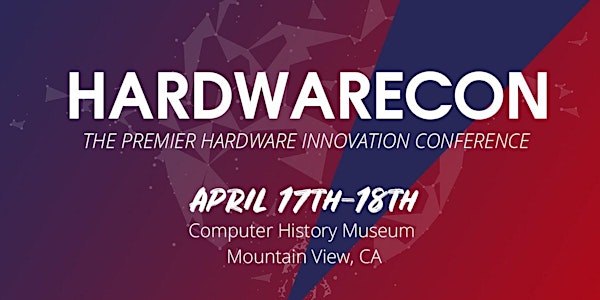 Free Expo Pass HardwareCon
When and where
Location
Computer History Museum 1401 N. Shoreline Parkway BLvd Mountain View, CA 94043
Description
PLEASE NOTE EXPO PASSES NOW GONE!

IF YOU DID NOT REDEEM YOUR TICKET WITH THE CODE AND GET A RECEIPT FROM HARDWARE MASSIVE, WE SOLD OUT ALL THE FREE PASSES. WE SUGGEST YOU PURCHASE A TICKET WITH OUR DISCOUNT CODE BELOW

__________________________________________________________

ABOUT ANGEL LAUNCH
contact: cell +1 (310) 621 6850 or office 650 226 3490



Angel Launch in Silicon Valley, is a leading producer of tech venture forums connecting thousands of global startups to hundreds of accredited investors for early and advanced stage funding.

Only 1 ticket per person please. You can register additional people but must use their own name and email. If you register more than 1 person under 1 name we will delete additional tickets.

HardwareCon April 17-18 is not our event, but we are pleased to offer this free expo pass as a partner to their producer Hardware Massive. You can only get this special FREE Angel Launch pass thru us.

Want to meet investors? The next Angel Launch venture forum is the Silicon Valley Investing Summit April 1 in San Francisco. VIEW HERE

WANT TO ATTEND FULL HARDWARECON EVENT APRIL 17-18?
If you want to attend the full conference you can save 30% by using this link:



Here is how it FREE EXPO works:

You must register here first on our site. We will check to make sure before your ticket is activated.
Then once you register here, you will get an email from us with a link to their site to redeem your free pass. We have a limited amount of free expo passes.
ABOUT HARDWARECON:
Get your complimentary expo pass to HardwareCon and learn about the forward thinking innovations and new business models in AI and Machine being implemented within the Robotics, IoT and Consumer Tech markets at HardwareCon!
HardwareCon brings together over 500+ of the best hardware startups, innovators, investors and industry leaders across the hardware ecosystem for two days of discussions, networking and deal-making around everything hardware.
Walk the expo hall and meet with innovative hardware companies, disruptors, investors and decision makers from the leading hardware and software companies like Xilinx, Autodesk, Avnet Ansys, Dragon Innovation, Microchip as well as other service and platform providers who are helping to build innovative hardware companies and disruptive technologies.