Multiple Dates
FREE EVENT: How To Reduce Your Teachers' Frustration Levels in the Classroo...
Description
ADMINISTRATORS' TRAINING - 3 HOURS
Date: Saturday, October 7 or 21, 2017
ONLY SPACE FOR 50 PARTICIPANTS
TOPIC: How to reduce your teachers' frustration levels in the classroom
Administrators – What do your effective teachers say when those scores come back lower than you had hoped for? Do they say, "If we just had more time to spend on instruction and not on the disciplines, they should have been taught at home! Don't play the blame game. Want to decrease the number of office discipline referrals that are keeping your teachers from applying their art to their best? Holding students instantly responsible for low-level misbehaviors may be the answer. There are some tested techniques and strategies that may be the missing piece you have been looking for. These strategies could change your school, too.
State test scores down? Who should be accountable?

What is more valuable than gold and can never be reclaimed, especially in the classroom? – Time!

Time – way too precious to waste! How can we make the most of it!

Are the discipline issues of a few ruining the academic progress of all? We can help!

You've heard "Time Heals All Wounds." Could it help you heal your classroom? We have a plan.


Audience: Principals, AP's, Dean of Instruction
COST: FREE
Research Book Recommended (Optional - Not Required)
Having trained tens of thousands of teachers who teach hundreds of thousands of students, we know that children and adolescents can and will be responsible for their own behavior and for their own learning, but these skills must be taught first. That's why we have been tirelessly promoting it for over twenty-seven years! This book focuses on proven strategies for teaching important skills to students, evaluating their successes, and certainly focuses on the art of delivering effective consequences when all else fails. Special techniques are outlined for preventing discipline problems and dealing effectively with those that do occur.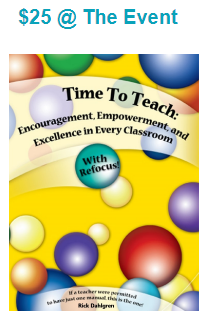 Questions: 956.551.0066 or E: noegranado@gmail.com