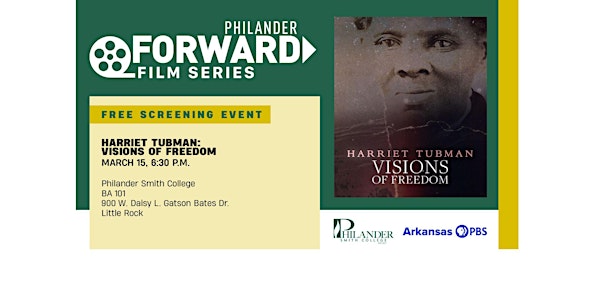 FREE EVENT: "Harriet Tubman: Visions of Freedom"
A new series designed to unite students and communities through films illuminating the Black experience and telling stories that matter.
Date and time
Wednesday, March 15 · 6:30 - 9pm CDT
Location
Philander Smith College 900 West Daisy L Gatson Bates Drive Little Rock, AR 72202
About this event
HARRIET TUBMAN: VISIONS OF FREEDOM
Directed by Oscar®-Nominated Filmmaker Stanley Nelson and Nicole London and Narrated by Emmy® Award-Winning Actor Alfre Woodard with Acclaimed Actor Wendell Pierce as the Voice of Frederick Douglass
"HARRIET TUBMAN: Visions of Freedom" is a rich and nuanced portrait of the woman known as a conductor of the Underground Railroad, who repeatedly risked her own life and freedom to liberate others from slavery. Born in Dorchester County, Maryland—2022 marks her bicentennial celebration—Tubman escaped north to Philadelphia in 1849, covering more than 100 miles alone. Once there, she became involved in the abolitionist movement and, through the Underground Railroad, guided an estimated 70 enslaved people to freedom. She would go on to serve as a Civil War scout, nurse and spy, never wavering in her pursuit of equality. Featuring more than 20 historians and experts and grounded in the most recent scholarship, HARRIET TUBMAN: VISIONS OF FREEDOM goes beyond the standard narrative to explore what motivated Tubman, including divine inspiration, to become one of the greatest freedom fighters in our nation's history.
About the organizer
For more than 50 years, Arkansas PBS has been a trusted, beloved, and essential part of the fabric of Arkansas and its citizens, families, and schools. We empower learners of all ages and educate, inform, entertain and inspire our community by creating, sharing, celebrating and driving conversation around Arkansas stories.