Description
First Time Home Buyer Seminar Announced For North York
Free event will highlight the benefits reserved for first time home buyers while answering common questions.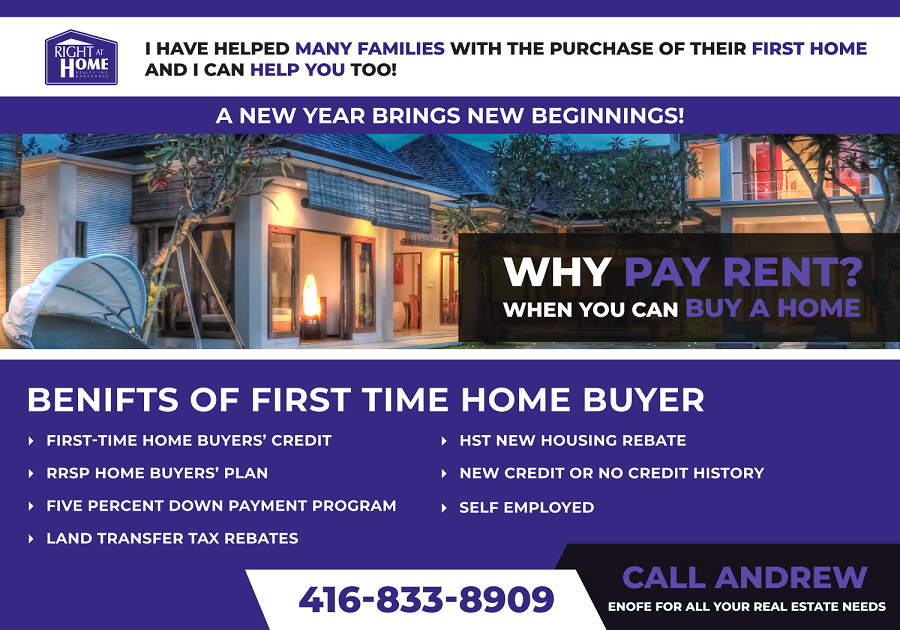 For those who haven't yet navigated the process of purchasing a home or enjoyed the perks of home ownership, getting started can be arduous. One upcoming event aims to quell anxiety and explain the process and advantages of home ownership for first time home buyers in and around the North York, Ontario, region.
The First Time Home Buyer Seminar is scheduled for March 24, 2018, from 10am-12pm at the Toronto Plaza Hotel at 1677 Wilson Ave., North York, Ontario M3L 1AS.
During the event, guests will learn about:
The first time home buyer's credit
The RRSP Home Buyers' Plan
The Five Percent Down Payment Program
Attendees will discover other benefits of buying a home for the first time, such as the land transfer tax rebate and HST new housing rebate. Other topics, such as self-employment and new/no credit history, will be explored and discussed.
Andrew Enofe is committed to helping you buy the right home at the right price through excellent representation.
During the First Time Home Buyer Seminar, Enofe will help guests identify how purchasing is financially preferable versus renting a home. When guests leave, they will have a more clear picture of the home buying process, the benefits available to them, and the advantages of owning versus renting.
While the event is free to the public, seats are limited. Interested parties are encouraged to RSVP and reserve their spot by contacting Enofe at 416-833-8909 or visiting www.enofehomes.com.
About Andrew Enofe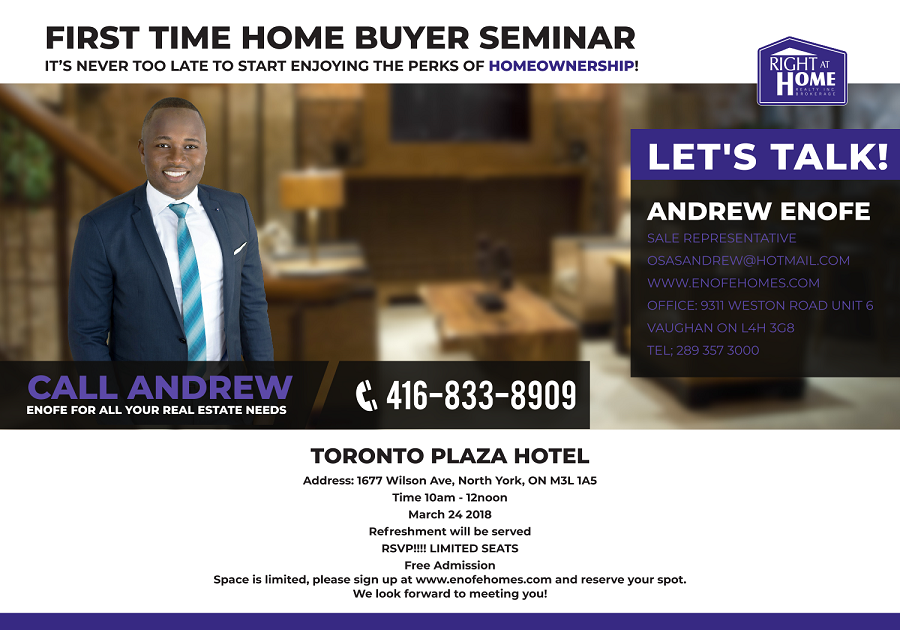 Andrew Enofe is a premier agent with Right At Home Realty Inc., Brokerage, specializing in first time home buyers.

Contact
Andrew Enofe
Phone: 416-833-8909
E-mail: osasandrew@hotmail.com
Website: http://www.enofehomes.com