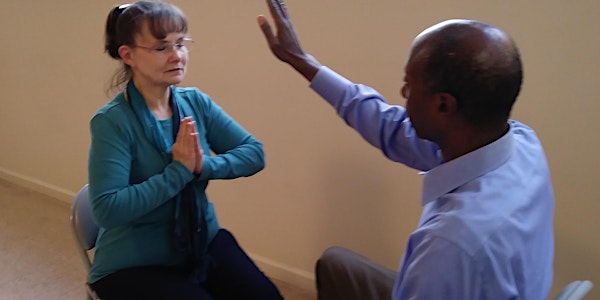 Free Energy Sessions at Wellness Center
Date and time
Friday, January 31, 2020 · 5:30 - 8:30pm EST
Location
Sukyo Mahikari Center 4479 Connecticut Ave. NW Washington, DC 20008
Description
Free Energy Session at Wellness Center, Jan. 31 5:30pm to 8:30pm
Experience a form of bio-energy at the Washington, DC center of Sukyo Mahikari 4479 Connecticut Ave. NW. Many find the wellness sessions revitalizing, rejuvenating, and calming.
The wellness sessions consist of an energy practitioner radiating energy from the palm of the hand pointed in the direction of the receiver who sits quietly in a chair one foot away. The sessions can be between 10 to 50 minutes depending upon the number of people receivng it. Sukyo Mahikari has centers in most major cities and over 75 countries.
After the energy session we will go to a Waltz Ball at the Embassy of Austria. To register click here or visit
https://www.internationalclubdc.com/Events/PurchaseTicket.aspx?EventID=83BF6754-A0AF-4C01-BC47-A8553E2C9909
About the organizer
Bruce McBarnette is  president of the real estate investment firm, Summit Connection LLC and a realtor with Keller Williams, Dulles.  He organizes a variety of social and charitable events with organizations that he participates including the Princeton Club, Ivy Social Club, the Rotary Club,  and Charlie's Place, a homeless service organization.  
He was a former legal counsel to the United States Senate, a former senior counsel for Fannie Mae, and a former Judge Advocate attorney for the US Army. He was also a captain in the Army. He is a graduate of Princeton University, where he was president of his class. He is also a graduate of New York University School of Law.
He also teaches classes for a number of colleges on real estate investing, on acting, and on preparation for the following professional school exams: the Law School Admissions Test, the Graduate Record Exam, and the Graduate Management Admissions Test. Some of the colleges he has taught for include John Madison University, George Washington University, Chaminade, Montgomery College, Hagerstown College, and Maui Community College.
On top of his professional pursuits, Mr. McBarnette is also an actor who has had roles on TV shows, such as 24 Hours, West Wing, The Wire, Law and Order, and on movies, such as Body of Lies, Shooter, Ladder 49, Along Came the Spider, Contact, Deep Impact, and Jackal.
Mr. McBarnette is also a distinguished high jumper.  He has broken world records for his age group and has won 12 world track and field championships for his age group. He has also won 31 USA national championships for his age group. Mr. McBarnette is a member of the USA Track and Field Masters Hall of fame. He has been featured in Sports Illustrated.
Despite his hectic schedule, he still finds time for philanthropy and has raised over $100,000 for a variety of charities, including the American Heart Association, Charlies Place, and the Queens Sickle Cell Advocacy Network. He has hosted charitable social events, such as art shows, at several embassies in Washington DC, including the embassies of the following countries: Finland, Croatia, Bolivia, Bulgaria, Austria, Trinidad and Tobago, Grenada, Antigua and Barbuda, and the Czech Republic.