FREE Drive-Thru Fair Foodie Fest @ Angel Stadium! Brand new fair food & drive-up Carnival Games! Celebrate 2020 ending!
About this Event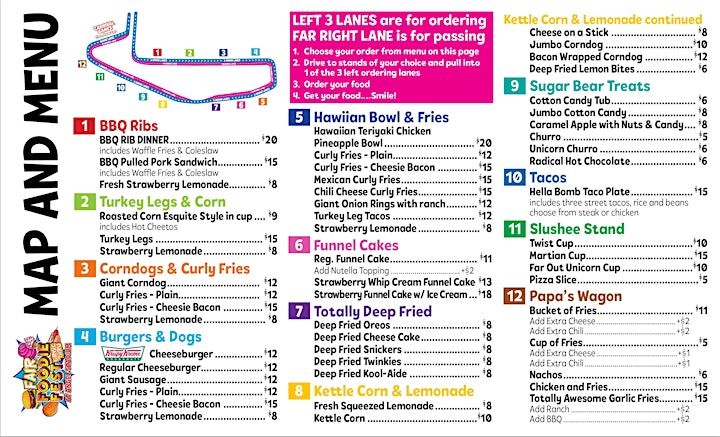 Free DRIVE-THRU FAIR FOODIE FEST @ ANGEL STADIUM
Goodbye 2020 (we won't miss you), and hello 2021! Ring in the new year in style with BRAND NEW FAIR FOOD by driving over to Angel Stadium for the FREE Drive-Thru Fair Foodie Fest starting Friday, January 8th at 5pm (TWO WEEKENDS ONLY!).
New in 2021 at the fair - you have to try the mouthwatering Hawaiian Chicken Teriyaki Pineapple Bowls made from an entire half pineapple!
Also NEW will be a brand new drive-up BBQ ZONE with BBQ Ribs, BBQ Chicken, Pulled Pork Sandwiches - all served with waffle fries and cole slaw. AND even more new items like COLOSSAL ONION RINGS (served with a dunkable side of ranch), Deep Fried Zucchini, NEW Curly Fries Zone featuring Mexican curly fries with jalapenos, Cheesy Bacon Curly Fries and so much more. Even DEEP FRIED KOOL AID and RED VELVET FUNNEL CAKES! Endless new items for 2021, plus all your favorites.
You can also pay to play up to 10 different carnival games right from your car.
AND! If you get a ticket online for Friday 5pm-10pm or Sat/Sun 12pm-10pm, you'll also get a free powdered sugar mini funnel cake (limit 1 per car, while supplies last)! Pre-registering helps us get a better headcount so we can better serve you!
We strive for a safe, no-contact, drive-through experience. Only credit cards will be accepted, no cash. Please wear a mask when ordering and whenever able, and due to new gov restrictions the venue will no longer allow you to park and eat at the venue. We are OPEN serving a safe in-car takeout experience in 2021.
To better serve you, we recommend coming durning non-peak hours. Coming during peak hours can result in extended wait times and slowed service.
DATES/HOURS
January 15 (5pm-10pm)
January 16 (12pm-10pm)
January 17 (12pm-10pm)
ADDRESS
Angel Stadium of Anaheim, 2000 E Gene Autry Way, Anaheim, CA 92806
Use entrance of Orangewood / Championship Way
For the latest news and updates visit www.fairfoodiefest.com.