FREE Disney/Harry Potter/Marvel/Anime/Star Wars Event San Francisco 3 Days
About this Event
FEATURING THE ART OF:
DISNEY
HARRY POTTER
MARVEL
DC COMICS
ANIME'
STAR WARS
PARODY
Scroll Down for More Details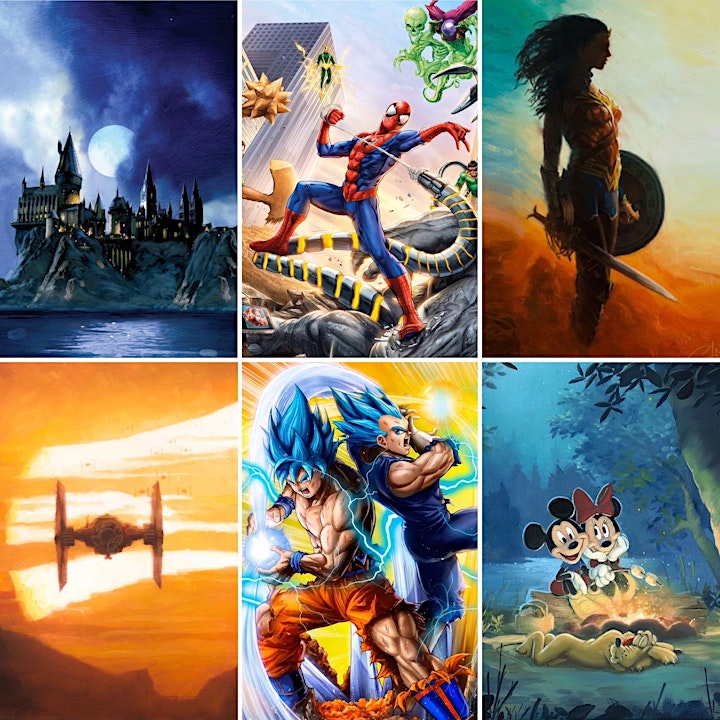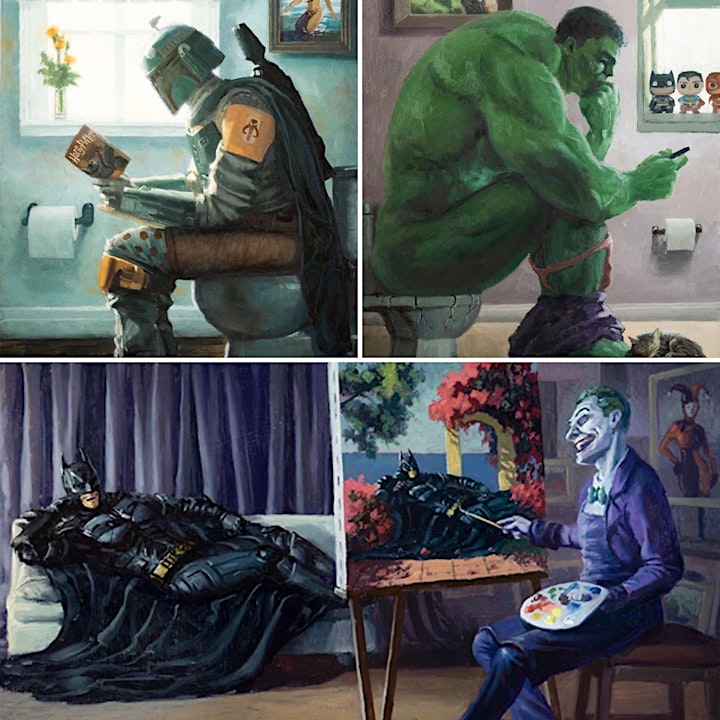 Presenting Nationally Recognized Artists Christopher Clark and Dominic Glover.
3 DAYS ONLY: Fri Feb 21st 6-9 pm Saturday February 23rd 12-6 pm Sunday February 24th 12 - 5 pm
FREE 9"x11" Print by SHARING this event on your Facebook Timeline or Tag someone on Instagram: CLICK HERE for Facebook Event to Share
There will be multiple exhibits of Harry Potter, Disney, Marvel, DC Comics, Star Wars, Anime & parody art on display featuring a variety of artists & available to purchase at affordable pricing along with Show Specials. Original oil on canvas paintings will also be available for purchase.
Superheroes, Jedi, wizards, princes, princesses & muggles of all ages are welcome to attend. Kid & Stroller Friendly.
RSVP NOW by clicking the "REGISTER" icon for your FREE Tickets - please only select tickets for adults 18+ as kids do not need a ticket. Tickets good for all days & simply required to help us track attendance.
Scroll Down for More Details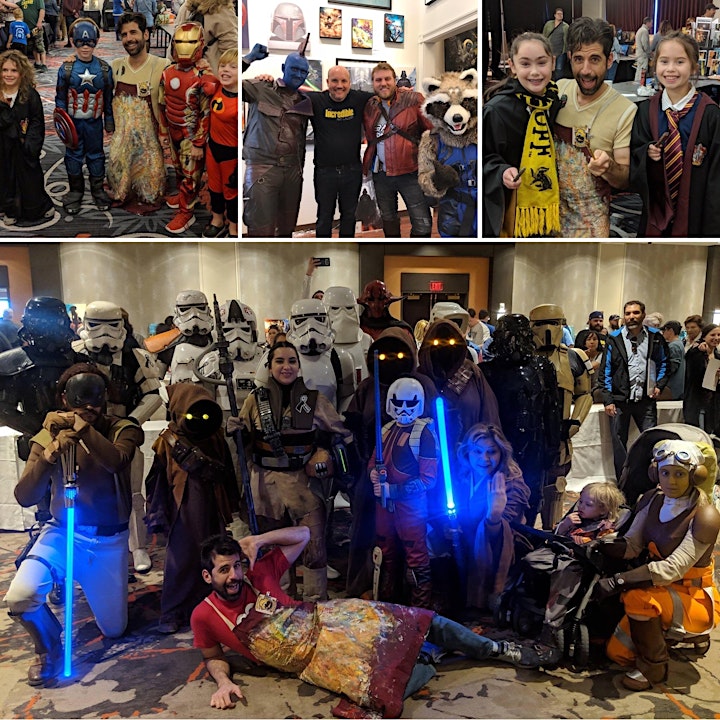 Meet Artists Christopher Clark and Dominic Glover who will be signing & adding paint highlights/embellishments to their purchased artwork at no additional charge, turning each piece into a one of a kind original.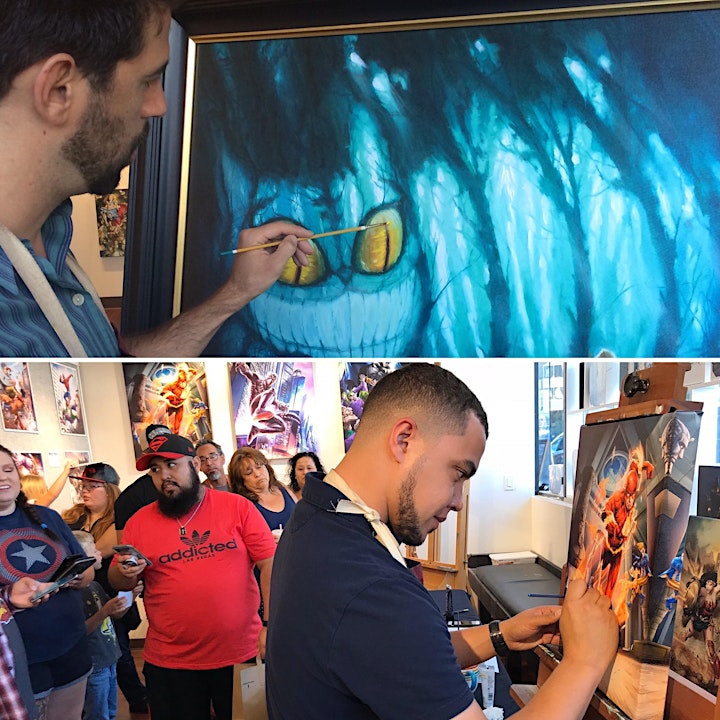 ABOUT CHRISTOPHER CLARK (See Images Below): Known for his attention to detail in capturing the exact likeliness of character faces & motion. He uses only oil paints (no digital work whatsoever). Christopher is currently Lucasfilm's #1 Selling Artist. His artwork can be found at Disney Theme Parks, various galleries throughout the world & the home of George Lucas, as well as various famous actors & athletes. Christopher has been the featured artist on multiple occasions with Star Wars Celebration, Epcot Center, Comic Con San Diego & New York. Christopher will be signing & embellishing all 3 days. CLICK HERE to Visit Christopher's Web page.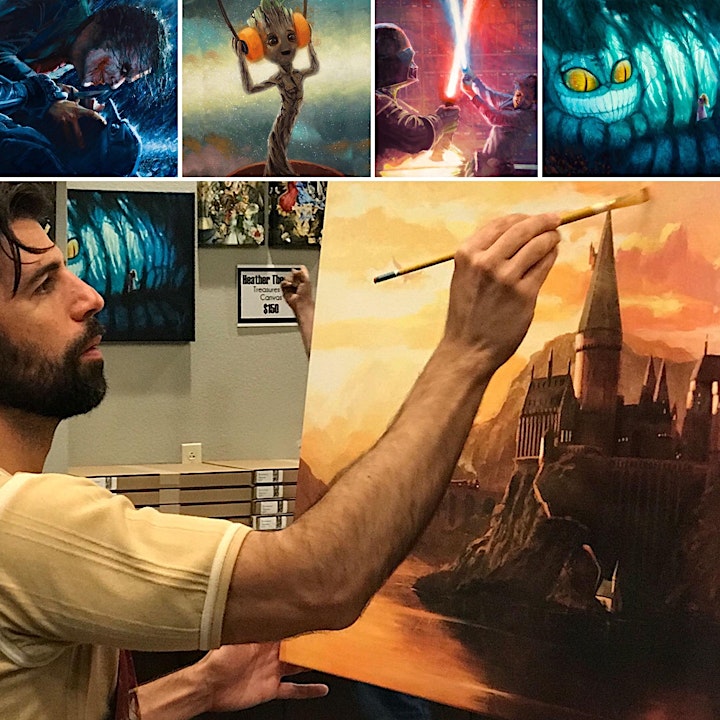 ABOUT DOMINIC GLOVER (See Images Below): A leader in the Marvel, DC Comics & Anime Culture. There isn't a month that goes by where Dominic is not on tour, often being showcased by different Comic Cons throughout the nation. You can find Dominic's artwork on licensed Marvel, DC Comics & Anime apparel & products throughout the world. Dominic will be signing & embellishing all 3 days. CLICK HERE to see Dominic Glover Art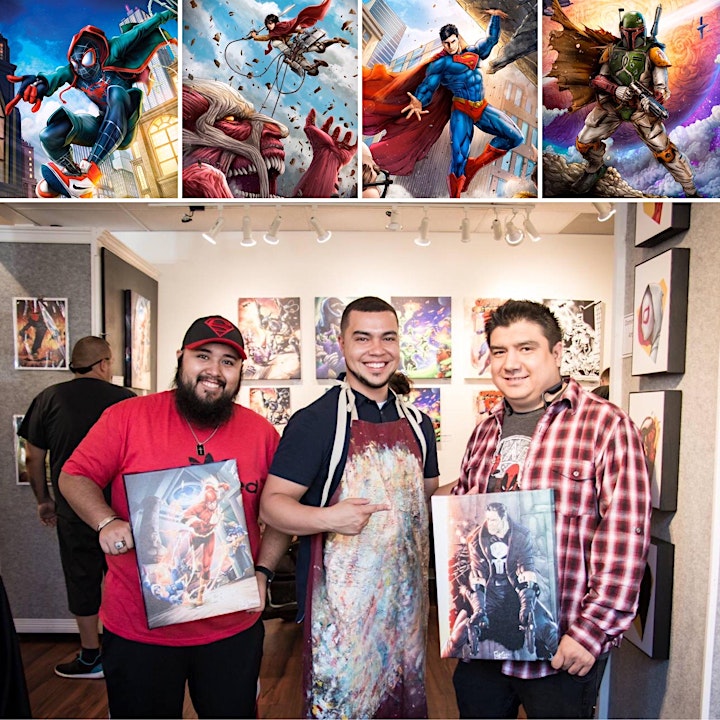 FAQs
HOW DO I GET MY FREE PRINT? SHARE the event on your Facebook timeline by FEB 22nd. When you check in at the event, simply show us you shared event on your phone & you will be given your choice of a free Marvel, DC, Star Wars, Disney or Anime print. Limit 1 Free Print per individual who shared Event. Artists will not sign free prints. CLICK HERE to Share Facebook Event
ARE KIDS WELCOME & DO KIDS NEED A TICKET? Attendees under 18 do not need a ticket. This event is Kid & Stroller Friendly!
I SEE MULTIPLE ART EVENTS LISTED AT THIS LOCATION, ARE THESE ALL THE SAME EVENT? Yes, these are all the same event. Please only reserve tickets for one of these events.
IS FOOD AND/OR DRINKS AVAILABLE? There will be open water stations at the event. The Garden Court Restaurant located inside Palace Hotel is open for breakfast, lunch and dinner.
DO I NEED TO PRINT OUT MY TICKETS? We encourage you to save a tree and simply pull the ticket(s) up on your phone. No need to print them out unless you want to.
BEST PARKING OPTIONS? We suggest you plan on being at event for 2 - 3 hours.*223 Stevenson St (5 min walk) $5/hr
*45 3rd St (directly behind hotel) $8 Hr
*255 Third St (8 min walk) $1 - $5/hr based on time of day
*330 Sutter St (7 min walk) $2-$5/hr based on time of day
*833 Mission St: (10 min walk) $2-$4/hr