Free Day of Fun Puppy / Dog Training & Supervised Playtime!

Weekly Event - Every Friday: 9:00 AM to 4:00 PM (PDT)
Event Details
Do you have a New Puppy or Rescue?
Having trouble with Potty Training or Obedience Training?

Looking to socialize and train your puppy safely while under supervision of professional dog trainers?

We are offering a FREE Full Day of Puppy Kindergarten training for your new puppy or dog at our Puppy Kindergarten!

Please Call 310-329-2914 to reserve a spot or if you have any questions.  We may be able to offer the free day on another day if Friday is inconvenient for you. 

Friday from 9am to 4pm


Socializing your puppy to be calm and confident around other puppies, dogs and people is one of the most important things you can do for your pet.
Early socializing and training can prevent the development of unwanted and nuisance behaviors like biting, chewing, marking, barking and more!
Sign up for our FREE day of Puppy Kindergarten to see what a difference professional training can make!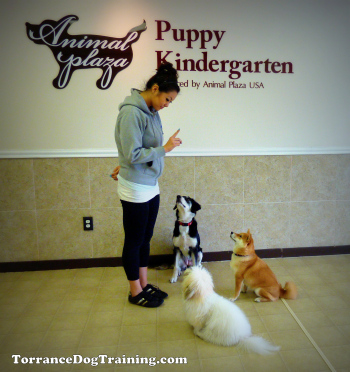 Once you reserve your spot, we will contact you to ask about your pets vaccination status and answer any questions you mat have.  You can drop off your puppy around 9am and we will start our Kindergarten class. We can discuss your specific concerns and needs at that time.  

Class will last until 4pm and will include:
basic health assessment
supervised playtime
supervised socialization with other dogs
introduction to some basic obedience commands
nap time
bathroom / water / snack breaks
dog walk around the block
We look forward to meeting you and your new puppy!
*Restrictions – dog must be spayed or neutered and be current on their vaccinations.
Where

Animal Plaza Puppy Kindergarten in Torrance
2131 West 182nd Street
Torrance, CA 90504


Weekly Event - Every Friday: 9:00 AM to 4:00 PM (PDT)
Add to my calendar
Organizer
Animal Plaza Puppy Kindergarten
Animal Plaza USA Puppy Kindergarten is a dog training company that will be running on its' 4th year this year! Located in Torrance, CA, Animal Plaza strives to make your dog the best that they can be.

We offer a drop off puppy training service where you leave your puppy with us from 9am to 5pm.  We help with Potty Training, Socialization, and teaching basic obedience through positive training methods.  Please contact us if you have any questions on our various Puppy Kindergarten Classes.   
Our number one goal is to reduce the number of dogs going into shelters. If dogs can receive an education when they're younger, they're able to keep and remember what they've learned for the rest of their life.
We do it because we love seeing dogs and their owners living a happy and stress free life. We want to encourage other dog owners to have the same goal as Animal Plaza USA, and to keep striving to train dogs! Another goal of ours is that we train because we love to see our students succeed, and to see their family happy and satisfied!
We know what it's like going through a puppy who has potty mistakes all over the house, or jumps all over guests..it's frustrating! Not only do we do this for you, but we do this for your new family member. We always love to see a smile out of our satisfied customers when they see their dog well-behaved and trained! Let us help you with your new puppy!
Free Day of Fun Puppy / Dog Training & Supervised Playtime!