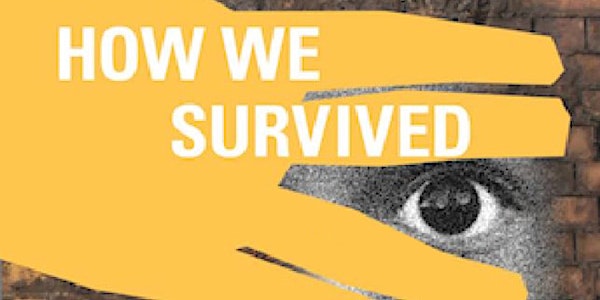 FREE Daughters of Holocaust Survivors Expressive Arts Workshop
When and where
Location
260 Maple Street Englewood, NJ 07631
Refund Policy
Contact the organizer to request a refund.
Description
I am Second Generation (2G), a daughter of Holocaust survivors living in Englewood, and I am a firm believer in the notion that the expressive arts allow our subconscious thoughts and emotions to become more perceptible, permitting thoughts and feelings to come to the surface. Expressive art helps us become aware of our deep-rooted anxieties and depression; it helps to discuss it, learn coping skills and eventually heal. I find that expressive art helps people who suffer from Intergenerational-Post Traumatic Stress Disorder, anxieties, depression, social skills, behavior disorders, eating disorders, loss of loved one, learning disabilities, and all other sorts of mental and physical disorders.
I am one of those who believe that 2Gs suffer Intergenerational PTSD. If we learn about the world around us from our parents, we also learn how to cope from our parents; we learn survival skills from our parents. This learning process begins in the womb; we sense our mother's voice, preference for food, and anxieties. These sensory memories make us who we are. Images teach us about the world around us even if words are not used, but now we can use expressive art to make ourselves heard…even in our own souls.
Each year I like to offer a workshop where women can share their own stories through drawing (no talent or previous experience necessary). When we become aware of our subconscious and we are able to share our stories, the rest of the group, who share similar anxieties and trauma, become a support group.
Once again, I am offering another FREE workshop that will need to be reserved with a $20. The $20 will be returned to those who show up.
Below are some testimonials of the experiences from previous years' workshops:
By discussing each others' drawings, we were able to open up, laugh, relate and discuss issues we would not dare to talk about before. Most interesting to me was that some of the women contacted me more than 24 hours later to let me know they were still thinking about their drawings and the memories they evoked.
In my article, 2Gs Learn via Expressive Art, I write:
One woman said, "I've thought about my drawing and it raised many emotions (mostly not great) regarding my childhood." Another woman wrote, "It was great…I still remember what I drew [sic]…and think 'why I did choose this moment of my childhood and not others?'" And yet another woman wrote, "I am a visual person and the drawing confirmed to me that family is of the utmost importance to me…"
What were some of the things the women learned about themselves? "Family was important," "My childhood was a huge mess," "I was hiding information from my family," "I'm not so crazy," "I'm not alone," "commonalities," I care too much about others."
In the end there was lots of positive feedback, such as; "I thought the workshop was amazing. To begin with it gives you a sense of knowing you are not alone." "It felt great. I had people like me to relate to—feelings of sympathy, empathy, love, camaraderie, family." "It really was wonderful. I have NEVER seen anyone explain the idea of art therapy as succinctly as Susan did...being in a room with people who 'get it' was huge, and Susan's work got us to deal with 'it' constructively." It was quite an experience for all of us.
Read here for more: https://www.jewishlinknj.com/community-news/bergen/2150-2gs-learn-via-expressive-art
Susan Greif, owner of Art Mends Hearts, LLC is a Creative Transformational Expert who helps women find emotional relief from anxiety, depression, trauma and relationship issues, through the process of the creative, expressive and healing arts. Susan is a motivational speaker and author. She offers private sessions, workshops and presentations.
Contact her at artmendshearts@gmail.com.
Website: http://artmendshearts.com
Facebook: Art Mends Hearts
IG/Twitter: @artmendshearts