Free Data Science Seminar Series! (valued at $50)
Description
RSVP Today. Please note that due President's Day, this week's seminar has been postponed to Tuesday. Connect with us on Facebook for more up to date information
Only on Mondays: FREE data science seminars in small group setting by Byteflow Dynamics, a NYC based data science consultancy (Valued at $50).
The seminars will cover topics from a range of industries where Data Science/AI tools and methodologies play a major role in, such as Healthcare, Education, Financial Technology (FinTech), Insurance Technology (InsurTech), and more. Some seminars will focus more on the tools while other will be dedicated more towards the business benefits.
---
Schedule: 5:30pm
The one field lagging in leveraging data are actually schools and universities.
There are so many challenges Universities are facing which can be addressed by looking at their data: high drop out rates, time spent to complete a 4-year degree (~6 years); relevant employment of graduates (most schools don't even track this); departments not keeping up with new skills set required to compete in changing workforce.
These are pure optimization problems:
Phase I (internal data):
minimize time to graduate
optimize graduation rates
optimize course completion rates
Phase II (external data):
where are your graduates now
what is the rate of employment in relevant fields
optimize the path to relevant employment by constructing additional workshops (i.e a CS student might need more writing classes; an English major might benefit from just a couple of programming classes)
Phase III
Build a tools for students & academic advisors based on findings.
We have just started to scratch the surface in this field. If you are a school administrator or are working on similar people analytics projects and you are in New York you should stop by our seminar this Monday.
We will also address a question we often get on whether analysts/researchers/accountants and just about anyone who deals with data would benefit from using tools such as R/Python to analyze their data. To better address this question we will walk through the process of exploratory data analysis, data wrangling, and data visualization to show some of the benefits that come in adapting modern tools into your workflow.
Connect with us on Facebook for more up to date information
---
About the seminars and speakers:
The Speakers: The speakers are data science consultants, researchers, and educators. They love what they do and want to share their knowledge. In turn, speaking to different audiences about their work, they get to see their work and challenges from different angles coming from the audience. It's a great way to teach and learn at the same time. If you are a data scientist or researcher and would like to present at our future seminars, let's connect: https://www.linkedin.com/in/andi-shehu/. Also, If there is a specific topic of interest to you let us know and we will see if we can incorporate it in future sessions.
During the the first half of the seminars we go over case studies or topics of interest. We then open the seminars to questions and comments. The seminars are held is a small conference room setting so we get a chance to learn about your goals and interests.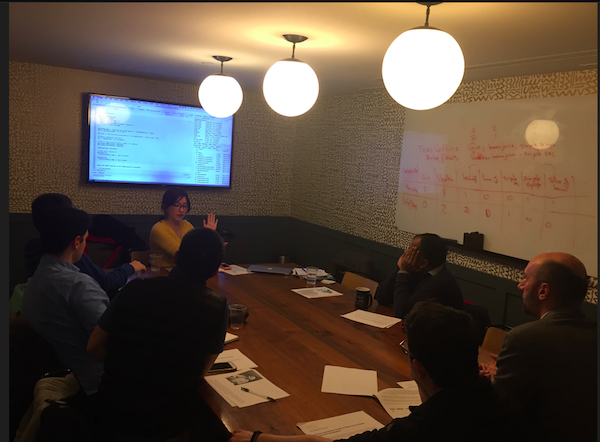 ---
Who is this seminar for?
Analysts who want to learn more about tools and methogologies to add to their workflow.

Data Scientists interested in seeing what other scientists are working on.
Academics and researchers interested in the commercial aspect of machine learning and data science.
Business mamagers who want to see if they can apply any of these methodologies into their field.
& Students.
---
Who we are?
We are a data science consultancy based in NYC. We recently launched Byteflow Studios, an educational studio with hands on workshops in data wrangling, data visualization, supervised & unsupervised machine learning and more. Relevant blog post: http://bit.ly/2E1mTyY
Our approach to teaching is different: Instead of bootcamps we offer and environment for continuous learning. Our membership programs are structured similar to your gym or yoga or salsa classes. When you become a member you are part of a community of other professional, so you can learn and grow your professional network. AI and automation is changing the way we work faster than ever before, which means you should never stop learning, that's what an Edicational Studio does.
For weekly data classes see: http://www.byteflows.com/classes.html
Connect with us on facebook for updated future events: https://www.facebook.com/byteflows/
_________________________________________________________________________
FAQs
What can I bring into the event?
Pen and paper for notes. You can bring your co-worker if you contact us before heading over to see if we can accommodate
How can I contact the organizer with any questions?
Email: info@byteflows.com
Tex/Callt: 347-278-2892 (we are limiting to text only due to high volume of sales/robo calls)
What is the best way to keep in touch with updates and your future events?
Connect with us on Facebook, we update the information there a lot more often: https://www.facebook.com/byteflows/.
LinkedIn is also a good way to keep in touch.