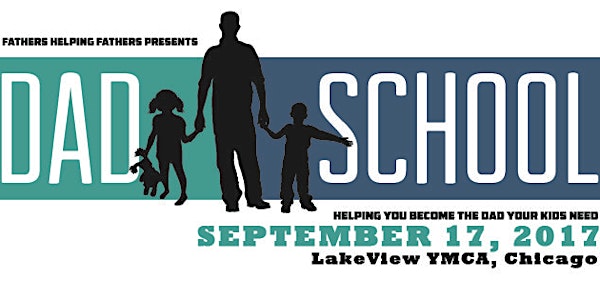 FREE "Dad Schoool" event, hosted by Fathers Helping Fathers
When and where
Location
LakeView YMCA 3333 N Marshfield Ave Chicago, Illinois 60657
Description
This FREE event was conceived as a vehicle for dads hoping to be closer to their children. This might mean working toward gaining visitation, working on custody issues, learning how to be more prepared for the surprises that parenting throws their way or finding ways to connect emotionally to their children. We wanted to create a one-day event that could address as many of these needs as possible, involving professionals from all areas of expertise that dads need not only during litigation, but for years beyond.
Building a strong, safe and trusting environment for our children is undeniably crucial in having a close relationship with them. We want all dads to have the courage to step forward and into their children's lives – kids need their dads. Be the dad your kids need. This event is a great place to start or to improve your fathering skill set.
The event will be run just like school. Along with a large forum setting we will also have breakout classroom choices that will provide you with your individual needs. We will have proffessional lawyers at the event offering their legal expertise during your one-on-one signed up time slot along with amazing speakers. We are excited to announce our KeyNote speaker, 'Carey Casey' from National Center for Fathering.
In addition, we are also including FREE child care services to make it convenient for you to be able to attend while your children are in your custody.
This is an event you won't want to miss! Sign up today. Note there is an option during registration for the childcare option.
http://fhfdadschool.com
https://www.facebook.com/fhfdadschool/