Shai is Hosting a FREE Cycling Class!
About this event
I've been wanting to do something special for a while now -- something that connects me with old friends and introduces me to new ones...
Saturday, November 20 at 1:00pm, join me for a FREE 45-minute cycling class. After class, we will take a few minutes for mindfulness and meditation lead by my beautiful friend Elise.
For attending, you'll receive a complimentary lululemon Swag Bag with custom merch, and (of course) I'll have healthy snacks and refreshments to enjoy during our time together.
Please be sure to review all the information below, and if you have any additional questions let me know.
Spots are limited, so don't wait!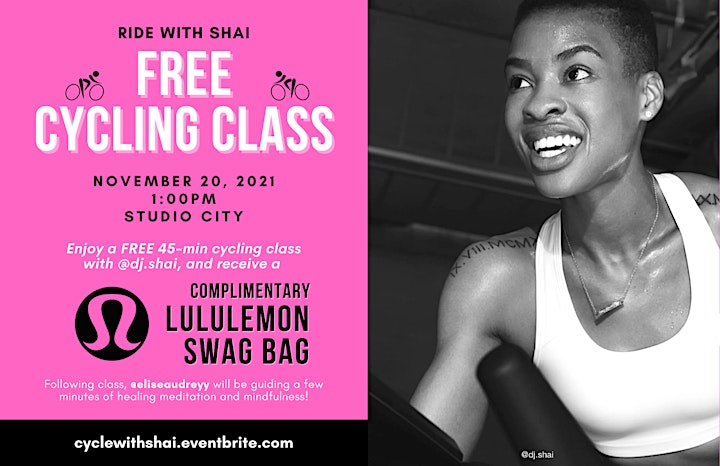 INFORMATION & PERKS
Doors open at 12:30pm
Free cycling shoe rental
Cold water filter with bottle-filling station
Free 90-min parking
lululemon Swag Bag!
IMPORTANT NOTES
Masks required at all times
Proof of Vaccination or negative COVID Test (within 72 hrs) is required to be uploaded by 11/19/21
BRING YOUR OWN TOWEL TO CLASS! If you do not have a towel, you may purchase a new one at the front desk
Bring a yoga mat for the meditation portion