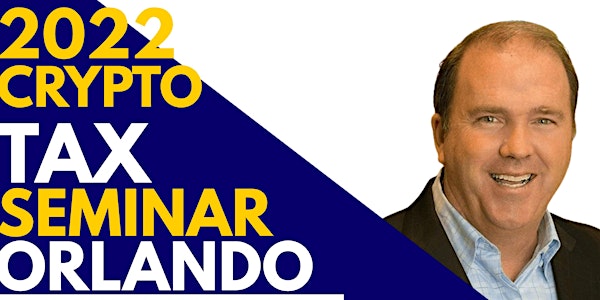 FREE CRYPTO & NFT TAX PREPARATION SEMINAR
A new way to combine general wealth investing, Business Coaching, Entrepreneurship, Pop Culture, Motivations talks, and entertainment.
When and where
Location
Holiday Inn & Suites Orlando - International Dr S, an IHG Hotel 5916 Caravan Ct Orlando, FL 32819
About this event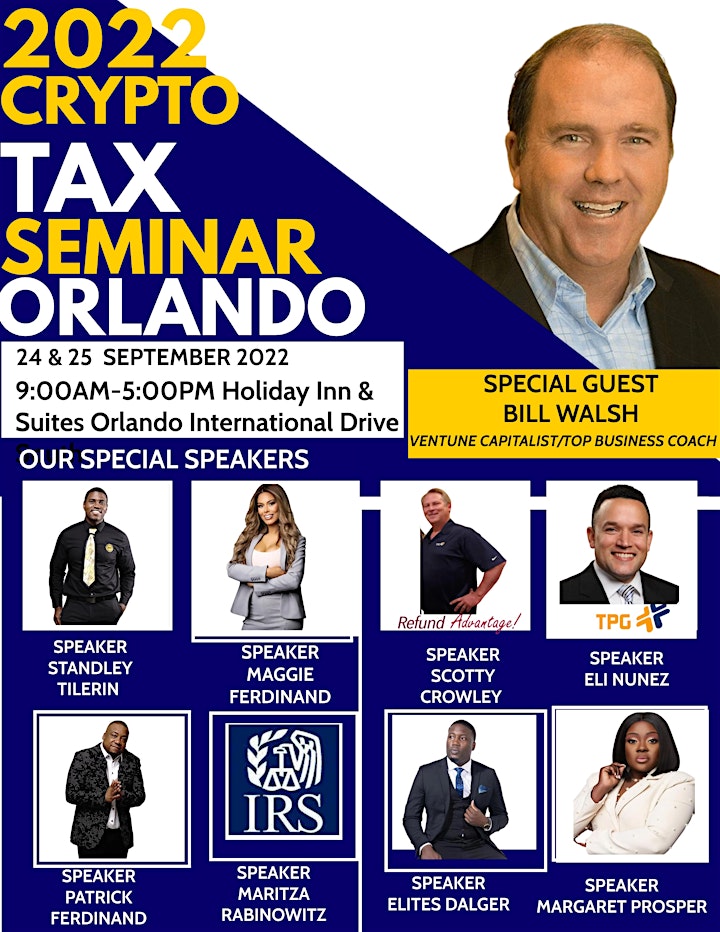 ProTaxLink is making the rounds at various tax industry locations in your city and would love an opportunity to meet you!
While we're here lets bring you up to speed for the upcoming tax season.
The New 1040: What you Must Know!
Advance Child Tax Credit Payments
Mastering Due Diligence Requirements and Audits
Tax Preparers And Preparer Penalties
Tax compliance for Bitcoin and virtual currencies
S-Corp Vs LLC
Which Parent Should Claim a Child on Taxes?
Find out the latest tax law changes and due diligence requirements from the Tax Cuts and Jobs Act and the Bipartisan Budget Act, including:
The NEW head of household paid preparer due diligence.
Modification of the net operating loss (NOL) rules.
This conference will cover topics such as, Crypto currency taxation, 2023 tax updates, Inflation Reduction Act, Tax Preparers Due Diligence, Circular 230 etc. Attendees will learn how to properly prepare taxes for Crypto holders, learn how to tax plan & save money for clients, Fraudulent Preparers (How not to be one), Learn how "Inflation Reduction Act" will affect taxpayers, how to automate your tax office, how to overcome the tax industry, how to spot IRS audits in advance, bank Products, marketing tactics to make millions, leveraging credit with your business, making better use of your time, how to approach customers strategically, and much more.
Know how to present solutions that solve their problems. In addition, attendees learn the one's and two's that can help you efficiently generate more revenue. Upgrade your business to the next level! Learn hands on about crypto tax from the IRS standpoint and how your clients will be taxed. You will learn 2023 tax updates for individual and business taxes, tax planning techniques for your wealthy clients, and gain the ability to network with industry leading financials and companies.
Our two-day Level Up Your Tax Practice is specially designed to engage and educate our attendees on the ways to grow your crypto knowledge. We will expose and uncover ways for you to understand digital assets, the implementation of block chain in your business, NFT, smart contracts, in your business, sole tax practice to large tax firms, and network your business.
In this two day event we will cover:
HOW TO GROW YOUR BUSINESS USING BANK PRODUCT
PAID TAX PREPARERS PENALTIES/ DUE DILIGENCE / CIRCULAR 230
HELP YOUR SELF EMPLOYED CLIENTS TRACK BUSINESS EXPENSE
HOW TO OVERCOME TAX INDUSTRY CHALLENGES
HOW TO LEVERAGE CREDIT WITH YOUR BUSINESS
HOW TO OVERCOME TAX INDUSTRY CHALLENGES
HOW TO SPOT AUDIT MISTAKES IN THE FUTURE
$7,500 ELECTRIC VEHICLE CREDIT
COVID RULES TO GET EXTRA REFUNDS
LAST IRS WARNING ( GET IT TOGETHER)
NON -FUNGIBLE TOKENS (NFT) & CRYPTO TAXES GUIDE
IRS GUIDELINE FOR CRYPTO CURRENCIES
1040 VIRTRUAL CURRENCY QUESTION
HOW TO GROW YOUR BUSINESS WITH DIFFERENT MARKETING STRATEGIE
HOW TO MAKE MORE REVENUE WITH DIFFERENT SERVICES SUCH AS CREDIT REPAIR, BUSINESS CREDIT, IRS TAX AUDIT SOLUTIONS AND MUCH MORE