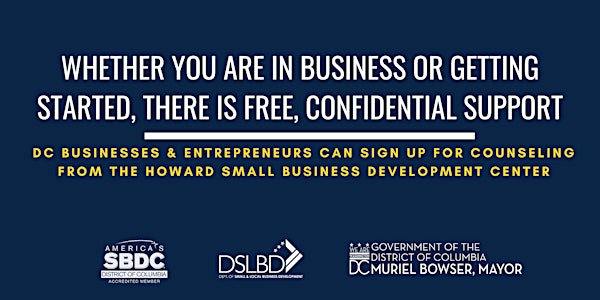 FREE Counseling for DC Businesses & Entrepreneurs
DC-based businesses & entrepreneurs are eligible for free counseling from the DC Small Business Development Center at Howard University!
About this event
DSLBD is proud to partner with the DC Small Business Development Center (SBDC) at Howard University to help connect DC-based businesses and entrepreneurs to free counseling and technical assistance.
As businesses are working hard to pivot, survive, recover, and thrive, free technical assistance and counseling can help support developing recovery and resiliency planning.
The SBDC has engaged several experts to support your business. If you have not connected with the SBDC lately, there is no time like now to get reconnected!
Upon registering here, you will receive a phone call from a DCSBDC intake specialist who will call you at your appointment time and match you with a counselor based on your business questions and needs.
Tickets are available on a first come, first serve basis until 5 pm the day before your meeting time.
Questions about your scheduled appointment? You can reach out to info@dcsbdc.org.
Question about this event listing? You can reach out to Kate Mereand at DSLBD at Inno.ED@dc.gov.
If you would like to schedule more generally with the SBDC, you can sign up at https://dcsbdc.org.
Want to learn more about SBDC Counseling before you sign up? See the information session below for more information.