Free Cooking Class ~ Homemade's Spring Onion and Chive Pizza with Prosciutto
About this event
Free Cooking Class ~ Homemade's Spring Onion and Chive Pizza with Prosciutto
Event Date: Thursday, April 15, 2021
Event Time: 4pm PT / 7pm ET
Happy Spring! The flowers, the sun, the pizza . . why not?! Chef Ryan is making her Spring Onion and Chive Pizza with Prosciutto. It's time to stop and smell the roses . . . and the pizza! We can't wait to cook with you.
Recipe Packet + Login Details: You will receive your recipe packet + Zoom link in your Eventbrite confirmation email, as well as directly from Homemade a few days before the event. Please make sure that emails coming from yourevent@withhomemade.com are not going to your spam folder!
**NOTE** This event may be recorded
**New Feature** Closed captioning is now available for all of our free cooking events! For more information, shoot us an email at YourEvent@withHomemade.com
_______________________________________________________________________________________
About Homemade
Homemade hosts epic personalized virtual cooking events for groups of any size, led by the most engaging chefs in America! Co-founders Joel Gamoran and Ben Rosenfeld saw a need for people to be able to gather safely with families, friends, and colleagues around food, and so, Homemade was born. At Homemade, we're making lasting memories in kitchens and bringing people together through highly interactive cooking experiences. We are dedicated to doing the most good for our clients and committed to being mindful of our food footprint as we cook together. With that mission in mind, Homemade has teamed up with a charitable partner, The Nature Conservancy, to support the protection of our planet.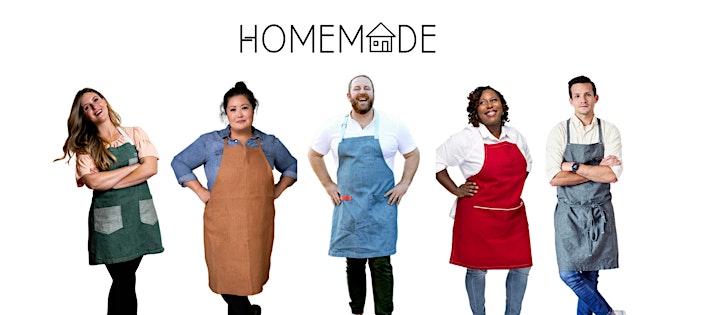 Organizer of FREE Cooking Class: Spring Onion and Chive Pizza with Prosciutto
About Homemade
Here at Homemade, we provide best in class virtual cooking classes with the most entertaining chefs from around the country! We're all about making people feel at home, specifically in their kitchens. Everyone deserves to learn how to whip up a Homemade meal, and doing it together with a Homemade Chef at the helm makes for an incredible experience. Homemade chefs are able to make class engaging, entertaining, professional while also cooking and teaching. Our Chefs are the best of the best - they've been featured in countless media events, interviews, and culinary demonstrations. Some of our biggest bragging rights include appearances on the The Food Network, The Today Show, and Good Morning America, as well as contributions to The New York Times. Cook along with us! Take our FREE, Live & Interactive Cooking classes any time.