FREE CONCERTZiggy MarleyEllie GouldingMeghan TrainorSeth GreenRandyJackson
Sales Have Ended
Registrations are closed
Thank you so much for joining the World's Big Sleep Out! We will see you on Dec 7th.
Sales Have Ended
Registrations are closed
Thank you so much for joining the World's Big Sleep Out! We will see you on Dec 7th.
About this Event
On Saturday, 7th of December 2019, the world will unite to help raise awareness to the important fight against homelessness with what is going to be the largest charitable fundraising campaign in an entire generation.
This unique family-friendly FREE concert and optional Sleep Out at the iconic Rose Bowl will bring people together for an evening of live musical and inspirational performances, festival food and community. As the night progresses, it will slowly wind down into a series of bedtime stories read by celebrities and prominent LA notables. The audience will also be shown a video link to stories being read in other cities by well-known celebrities, including Will Smith in New York and Dame Helen Mirren in London.
Confirmed for the LA event include musical performances by Ziggy Marley, Meghan Trainor, Randy Jackson and his All-Star Band, Ellie Goulding, Sean Kingston, Orianthi and a final bedtime story classic by Seth Green. The event also includes Playing For Change musicians featuring Mermans Mosengo, and music duo Jenni Alpert (aka Cami) and her birth father Don Logsdon. Showtime Comedian Don Friesen will kick off the night, with Dorothy Lucey, Steve Edwards and Jillian Barberie of #OKLA emceeing.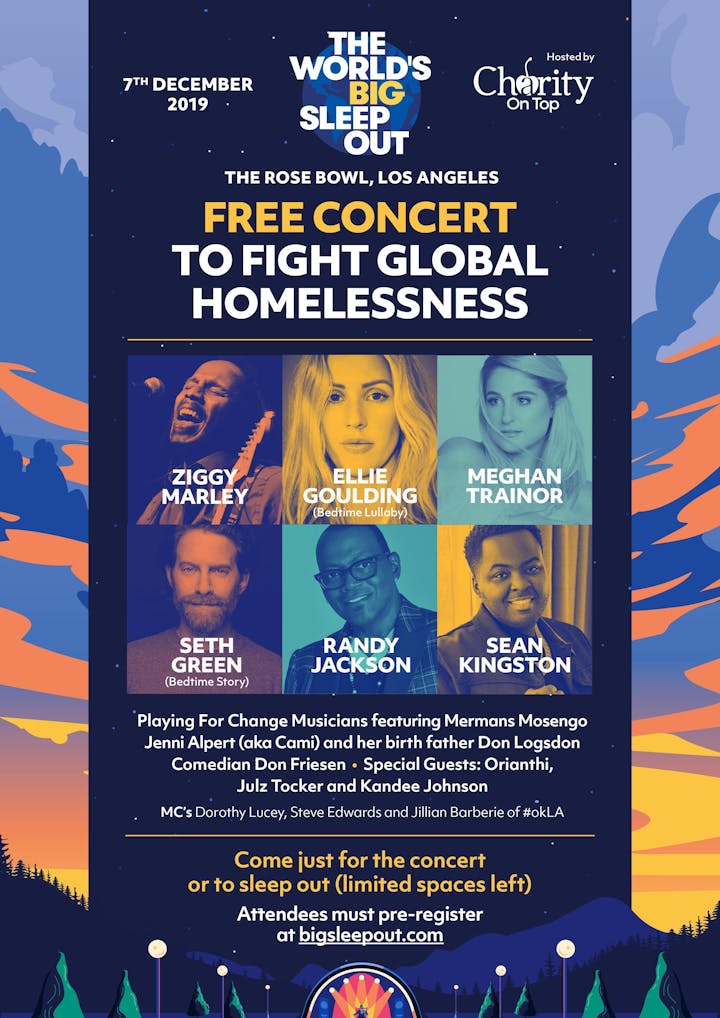 Homelessness is a global challenge that affects us all – men and women, families with children, youth and the elderly, and people with and without disabilities. Streethomelessness dramatically affects health and makes it more difficult to exit extreme poverty. It occurs in nearly all nations, and has severe negative impacts on individuals and on cities. In fact, the United Nations Human Settlements Program most recently estimated that 1.1 billion people live in inadequate housing, and thebest data available suggest that 100 million people have no shelter at all.
But this problem can be solved.
We know this because we can see it happening: countries and cities across the world have seen steep reductions in homelessness, and some have ended it outright.
The event is free and parking is free - but you can also fund-raise for the cause. 50% of the funds you raise will go towards a local homelessness charity in our Los Angeles community. Local charities supported are: United Way Greater Los Angeles, Downtown Women's Center, The People Concern, Union Station Homeless Services, Youth Emerging Stronger, Los Angeles Mission, West Coast Care, San Fernando Valley Rescue Mission and New Directions for Veterans. The other 50% raised through your event will be invested to tackle global homelessness and the refugee crisis. Global charities supported: UNICEF USA, Malala Fund and the Institute of Global Homelessness. If you raise over $1,000, your name will be added to a special mural at the United Nations!
No outside food allowed in the venue. Food is available for purchase inside - credit cards accepted..
Check your inbox for all the event details. FAQ's, what to bring, etc.