Description
Date: Sunday, 28 January
Time: 16:00
Tickets: FREE, with Eventbrite reservation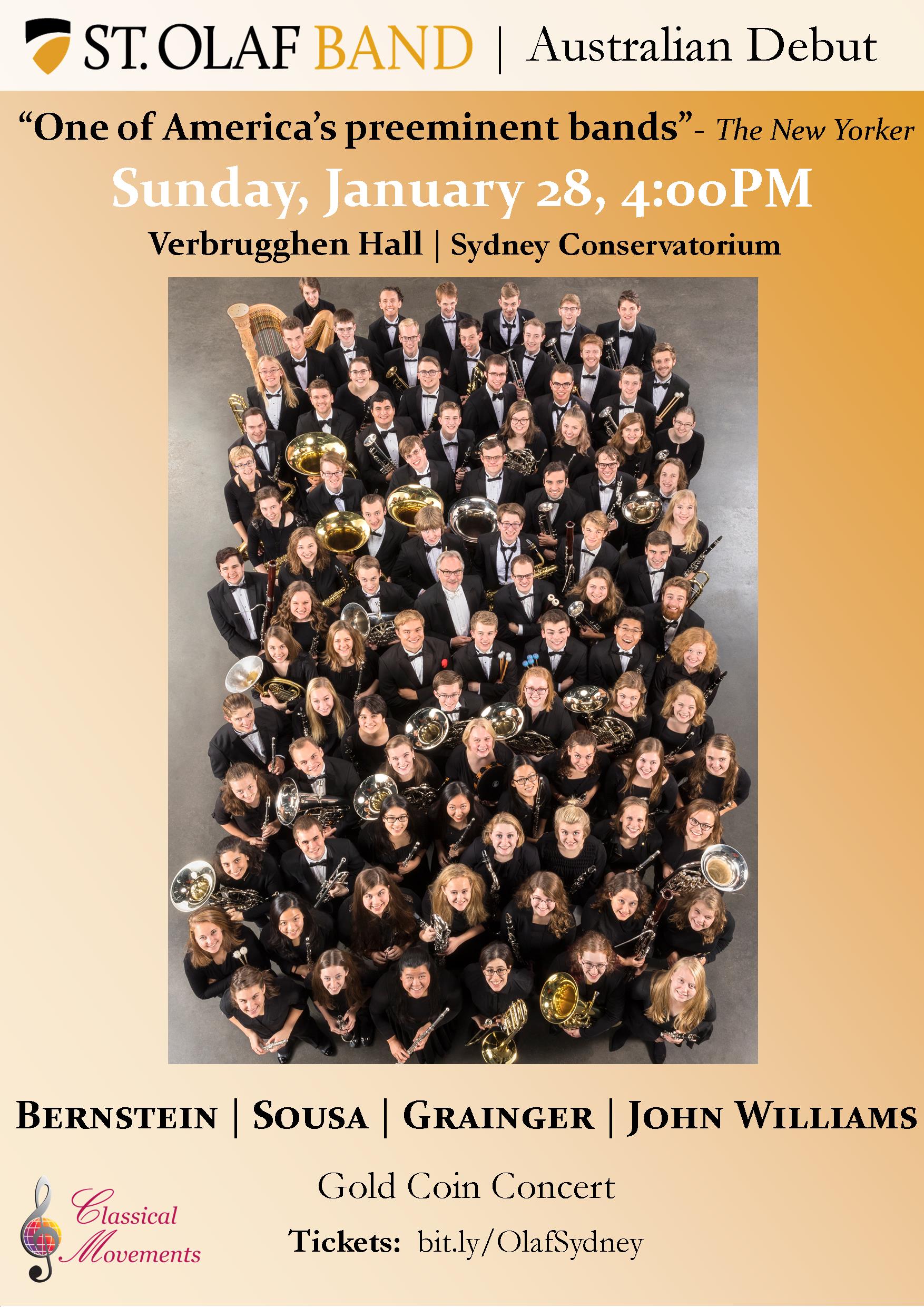 From January 15—30, 2018, Classical Movements will present five exciting performances by the world-renowned St. Olaf College Concert Band of Northfield, Minnesota—"one of America's preeminent bands," The New Yorker—during their first-ever concert tour to New Zealand and Australia.
Led by acclaimed composer, conductor and St. Olaf alumnus Dr. Timothy Mahr, the 126-year-old, 94-member ensemble's 17-day journey marks its debut in both Australasian countries, after more than a century of international touring.
The St. Olaf Band's expertly curated program of American and Australian repertoire, dubbed FLOURISH, celebrates Leonard Bernstein's centennial, the film scores of John Williams, Melbourne's own Percy Grainger, New South Wales native Jodie Blackshaw and other classic works from the wind band repertoire. On this historic tour, the ensemble will be joined on stage by three collaborators: West City Youth Concert Band (Auckland); Royal Australian Navy Band(Melbourne); Canberra Wind Symphony (Canberra).
According to band manager Terra Widdifield: "Founded back in 1891, the St. Olaf Band is noted for its superb musicianship, performing the classics and very best transcriptions for symphonic band in an exciting, crowd-pleasing style. In New Zealand and Australia, we're really looking forward to featuring our student soloists, and a good march, along with Dr. Mahr's award-winning composition, The Soaring Hawk."
Live from Northfield, Minnesota, watch Dr. Mahr conduct his own composition, Bright Side, with the St. Olaf College Concert Band.


*Due to popular demand, please note that while we will make every effort to seat those with an Eventbrite reservation, seating is first-come-first-served and subject to hall capacity. An Eventbrite reservation does not gaurentee a seat.
Walk-ins without an Eventbrite reservation will be seated as space allows. If space is not available, names will be added to a waitlist.
Organizer of FREE CONCERT: St. Olaf Band Debuts at Sydney Conservatorium (28-1-18)
ABOUT CLASSICAL MOVEMENTS:
Moving the Music, Changing the World
The premier concert tour company for the world's great orchestras and choirs, Classical Movements creates meaningful cultural experiences through music in 145 countries. An industry leader for over a quarter-century, Classical Movements organizes more than 60 tours every year, producing some 200 concerts every season. Producer of two international choral festivals—Ihlombe! in South Africa and Serenade! in Washington, D.C.—and the Prague Summer Nights: Young Artists Music Festival, in addition, Classical Movements' Eric Daniel Helms New Music Program has 97 works from Grammy, Oscar and Pulitzer Prize-winning composers. Winner of Americans for the Arts' BCA10: Best Businesses Partnering with the Arts Award, since its founding in 1992, as a truly global company, Classical Movements remains committed to facilitating cultural diplomacy across the world—promoting peace through the medium of music.