Description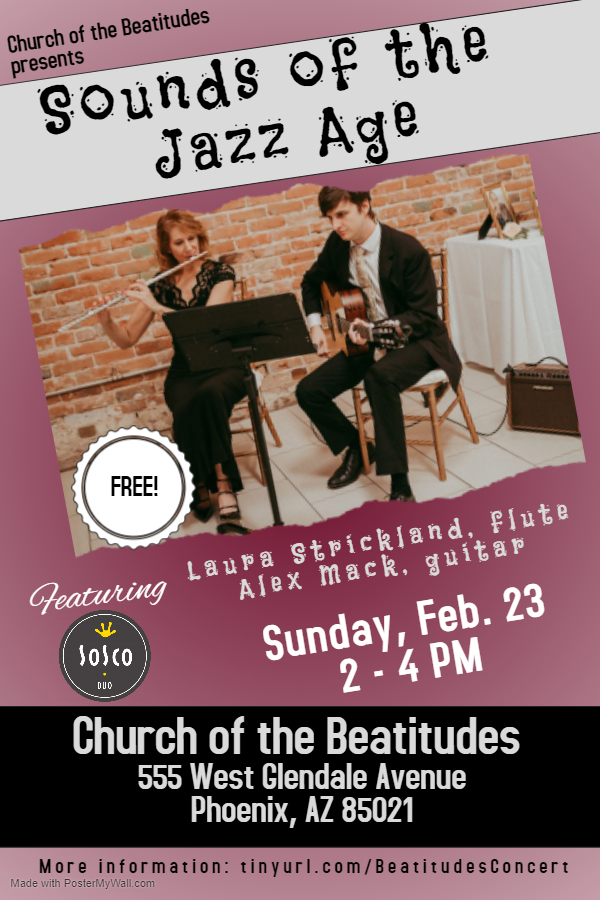 Enjoy instrumental jazz favorites as we take you on an exploration of the evolution of this unique American art form and its zenith in the swing era. Hear our unique versions of American jazz standards including such favorites from George Gershwin, Cole Porter, Louis Armstrong, Ella Fitzgerald and many more!
Exquisite sound, outstanding musicianship and inspiring performances are the hallmarks of the award-winning SoSco Flute & Guitar Duo. Known for their sensitive interpretations and polished presentation, SoSco Duo has rapidly distinguished itself as one of the preeminent small ensembles in Arizona.

Please join us for this afternoon filled with musical favorites! We hope you'll stay afterwards to say hello at the reception immediately following the concert.
"Pay what you want" for this concert! Donations will be graciously accepted.
What audiences are saying about SoSco Duo:
"Your music takes my breath away."
– Paula H.

"We were amazed by the song performances, and the arrangements were perfect as well – not too long, and excellent harmonies. We had a relaxing time listening and absorbing the concert. So beautiful. So pure and sweet. It was an experience we will not forget!"
– Marty & Tena B.

"Your choice of music, your ever so tasteful presentation and just the joy you bring to those lucky enough to hear and see you. I can't wait until you come back."
– Gerry S.