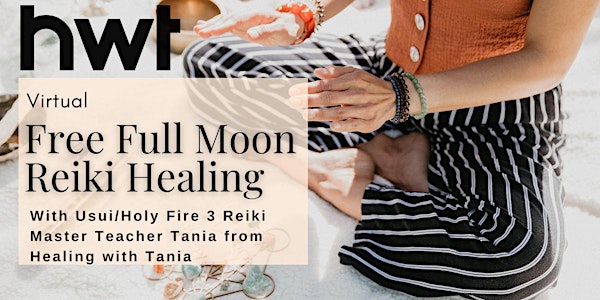 Free Community Reiki Healing
We gather monthly to release with the Full Moon and receive through the Reiki energy. I am a Holy Fire III Karuna Reiki Master.
About this event
🌑 Free Full/New Moon Community Reiki Healing
Come release what no longer serves you and your Higher Self. The moon prompts us to let go of the old and make space for the new. Let's create room for your intentions to manifest, for your visions to transform into reality, and clear up stagnation.
🌻We will go through a series of somatic tapping and breathwork to get the body ready to surrender and let go.
🥰Share your experience with others while building a community of like-minded people.
💖Reiki is a form of alternative medicine that was discovered in Japan by Usui Sensei and has been practiced for over 100 years. Reiki is a stress reduction and relaxation technique. It aids each individual with their own personal intentions and ailments whether emotional, spiritual, or physical. Reiki adapts to the needs of each individual so it knows exactly where to go in the body. 
✨Reiki can be delivered anywhere in the world, energy is transmitted through time & space. All you have to do is be open to receiving it.
* Strengthens the immune system
* Promotes personal awareness
* Reduces chronic pain and discomfort
* Fosters natural self-healing
* Promotes relaxation
* Reduces stress
* Balances energy in the body
* Promotes restful sleep
* Relaxes mind and body
* Soothes the nervous system
* Enhances your mood
* Improves well-being
* Gentle on your body
* Works as part of an overall treatment plan for chronic health conditions
* Safe to perform during pregnancy
-Have a water bottle ready
-Quiet space to rest: yoga mat/bed/couch...
-A journal if you feel called to write down any messages that you received
-A small blanket
No experience with meditation or Reiki is required.
Donations are welcome Venmo @tania-villegas
Tania Villegas is a Reiki Master: Holy Fire III Usui + Karuna Reiki. Tania is certified as a Crystal Healer and is a 500 Hour Yoga Teacher.
Tania Villegas has been featured in VoyageLA Magazine and Los Angeles Entrepreneurs Magazine.
For more information about Tania please visit: www.healingwithtania.com
Please be advised that by signing up for this event you will be added to our newsletter to advise you of future events with Healing with Tania. Your information will not be shared, however, you may choose to unsubscribe at any time.
A link will be sent out by Eventbrite in your confirmation and reminder emails. Please scroll through the entire email to find the link. The link is also on the ONLINE Event Page. Make sure you check your spam folder or other folders if you do not see them. Please make sure you download the Zoom app or have access to a computer to connect to Zoom and have the latest software updated beforehand so you can log in at the start of class.
#reikiwithtania #healingwithtaniain