Free Coffee Meeting & Business Evaluation

Monday, August 26, 2013 at 9:00 AM (CDT)
Event Details
Why ActionCOACH Heartland?
Every great performer, whether an elite athlete, business legend or performing superstar, is surrounded by coaches and advisors.

As the world of business moves faster and gets more competitive and difficult to keep up with both the changes in your industry and the innovations in sales, marketing and management strategies as well...  Having a business or leadership coach is no longer a luxury, it has become a necessity.

On top of all of this, it's difficult to get a truly objective answer from yourself.  Sure, you can survive in business without the help of a coach, but it's almost impossible to thrive...

* A coach CAN see the forest for the trees.
* A coach will make you focus on the game.
* A coach will make you run more laps than you feel like.
* A coach will tell it like it is.
* A coach will give you small pointers.
* A coach will listen.

A coach can help your marketing manager, your sales director, your training coordinator and be your partner, confidant, mentor and your best friend.  ActionCOACH will help you make your dreams come true.  David Drewelow and his team of coaches on the Heartland Team can can help your business today! 
Business Coaching & Leadership Training

We offer group and one-one coaching programs, business planning workshops and leadership and personal development training programs.  Programs are available at our public events or on-site in your business.  Our coaches are certified from ActionCOACH and the John Maxwell Team, both industry leaders in business coaching and leadership training respectively. 

Do you need a coach? To learn more, click here to take our free Business Health Check.


Organizer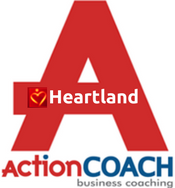 Our vision... "Everyone has a coach." 
David Drewelow is the head coach for ActionCOACH Heartland and since 2002 has built an award-winning team of coaches who have helped hundreds of clients in private industry, government, higher learning and non-profit organizations.  The AC Heartland group shares the belief that people are the #1 asset in every organization.
To maximize value for clients, the ActionCOACH coaches focus on growing people, improving operations and increasing profits using proven business models from these industry leaders:
 ActionCOACH for business and executive coaching. 
The John Maxwell Team for leadership training, professional and personal development. 
Personality Insights (Dr. Robert Rohm) for human behavior assessments and profiles.
ActionCOACH Heartland offers several clients programs including GrowthCLUB, ActionCLUB, BookCLUB, Masterminds, Workshops, Seminars, Training, Assessments, Business Valuations and One-on-One coaching programs.