Description
About the Event:
Have you wanted to code in JavaScript but don't know where to start? Do you manage developers who use JavaScript and you want to understand the language better?
This talk is designed for programming beginners who want a tour of programming basics. We'll discuss variables, data-types, and control flow. The concepts presented apply to nearly all programming languages, but we'll be using JavaScript's syntax for all concrete examples.
If you're a programmer who already speaks another language, and are looking for a tour of JS Syntax, this may interest you as well.
Agenda:
6:00pm – Doors open, food & networking
6:15pm – Workshop begins
8:00pm – Closing time
What You'll Learn:
The basics of programming, including:
– How JavaScript fits into the landscape of front-end languages
– How JavaScript works in the browser
– How JavaScript frameworks work
Prerequisites:
Beginner, no prior JavaScript knowledge needed
What to Bring:
We will be working on hands-on activities, so bring your computer!
Meet Your Instructor: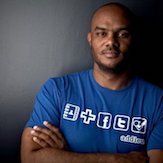 Robert Murray has spent the last two decades building applications for the music, hospitality, fashion, and finance industries. Throughout his career, Robert has embraced opportunities to keep pace with the industry and learn new technologies. Previously, Robert worked as a Freelance Full-Stack iOS Engineer while based in Austin, TX. Robert is currently an Instructor for the Galvanize's Web Development Immersive program and based in the SF area. Robert hails from Jamaica and has also lived in Atlanta, New York City, and Miami where he was a founding member of RefreshMiami.
Want to find more Web Development-related events and workshops? Join Learn to Code San Francisco Meetup!
About Galvanize:
Galvanize is the premiere dynamic learning community for technology. With campuses located in booming technology sectors throughout the country, Galvanize provides a community for each the following:
Education - part-time and full-time training in web development, data science, and data engineering

Workspace - whether you're a freelancer, startup, or established business, we provide beautiful spaces with a community dedicated to support your company's growth

Networking - events in the tech industry happen constantly in our campuses, ranging from popular Meetups to multi-day international conferences
To learn more about Galvanize, visit galvanize.com.