Description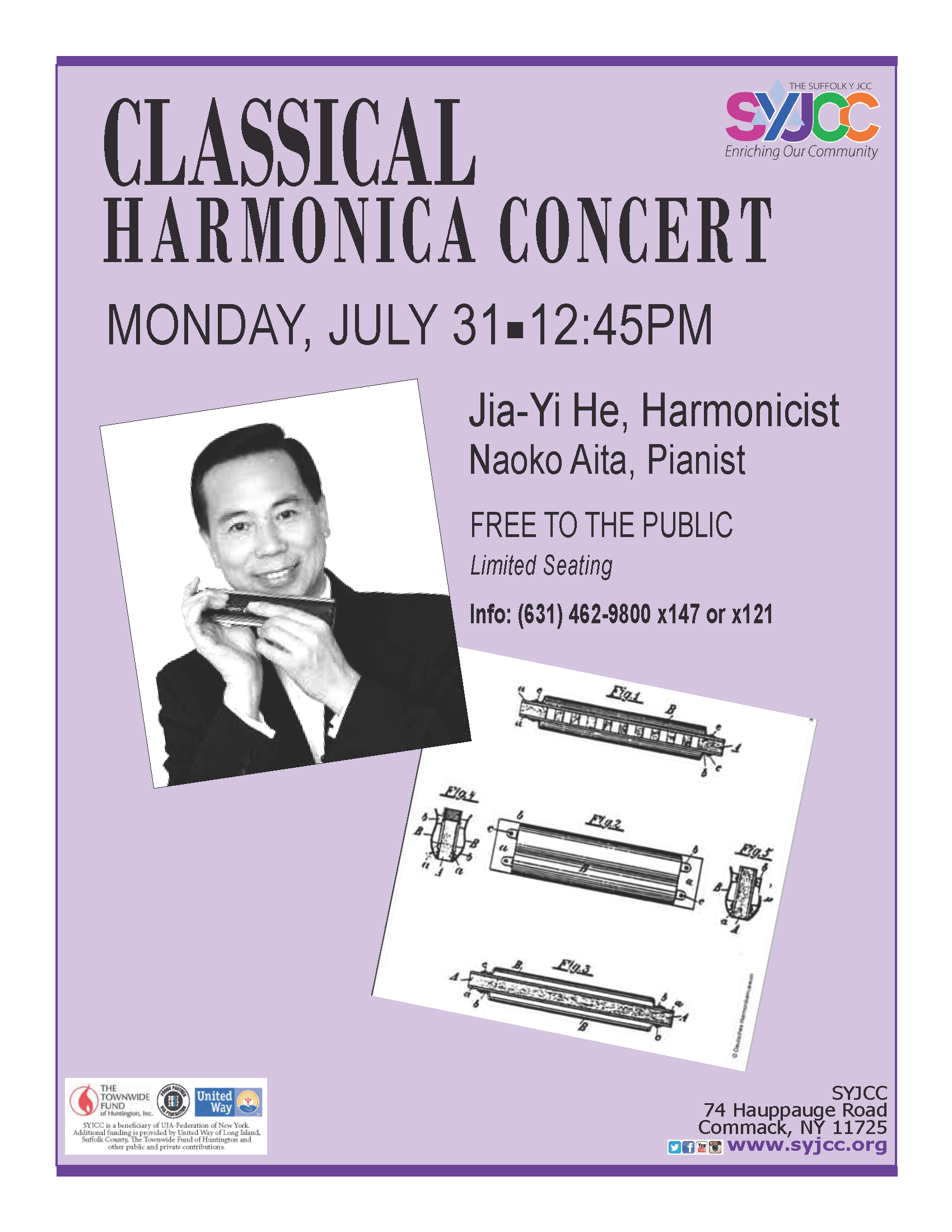 ---
CLASSICAL HARMONIC CONCERT

---
Jiayi He, a world-class harmonica virtuoso, will be performing a wide range of classical selections and standards including Beethoven, Bizet and Foster. He will be accompanied by pianist, Naoko Aita.
Jiayi He, a world-class harmonica virtuoso, has received numerous awards in international festival and competitions in England, Germany, Israel, Japan and United States. He has served as a member of the judging committees in the Asia-Pacific Harmonica Competitions held in Taiwan, Malaysia, Hong Kong, Hangzhou, Korea and Singapore. Jiayi has appeared as a soloist with orchestras worldwide. He has appeared on TV stations including NBC, New 12 Long Island, Queens Public Television, Sinovisson and Sino Television. Jiayi has recorded harmonica music for a number of movies and radio stations in addition to his compact discs. Mel Bay Publications, Inc published his books "Recital Pieces for Chromatic Harmonica""Virtuoso Harmonica Solos". Jiayi has been a soloist at Carnegie Hall, Lincoln Center, Shea Stadium, General Assembly Hall at United Nations and other premier venues. Former New York City Mayor Bloomberg attended his harmonica seminar held at the "Harmonica Mass Appeal 2012". Jiayi currently serves on the faculty of the Turtle Bay Music School in New York City.
Naoko Aita, Born in Osaka, Japan, Naoko Aita is an accompanist, coach, and piano teacher. She graduated from Kobe Yamate Women's College in Composition Major and with a B.M. and M.A. in Piano Performance from Hunter College. She is a staff accompanist at Hunter College and Turtle Bay Music School. Equally comfortable with playing Classical and Jazz, she has been appearing various venues with singers. The most recent appearance was The Mirror Theater production of Opera buffet in Vermont.
Info: 631-462-9800 x121 or x134