Description
ALL CLASSES ARE FREE
TO REGISTER
(Click the link below and fill up your particulars under Sign up Now)
July 15, 2017 Saturday
Session 1: Yoga & Menstruation
Time: 11:00am to 12:30pm
Click here to register.
Session 2: Fitness Thru Yoga (Exclusively for Men)
Time: 4:00 to 5:30pm
Click here to register.

July 29, 2017 Saturday
Session 1: Basics of Back Care Thru Yoga
Time: 11.00AM to 12.30 PM
Click here to register.
Session 2: Stability & Mobility (for 60+ years)
Time: 4.00 PM to 5.30 PM
Click here to register.
***One person allowed to only one session
---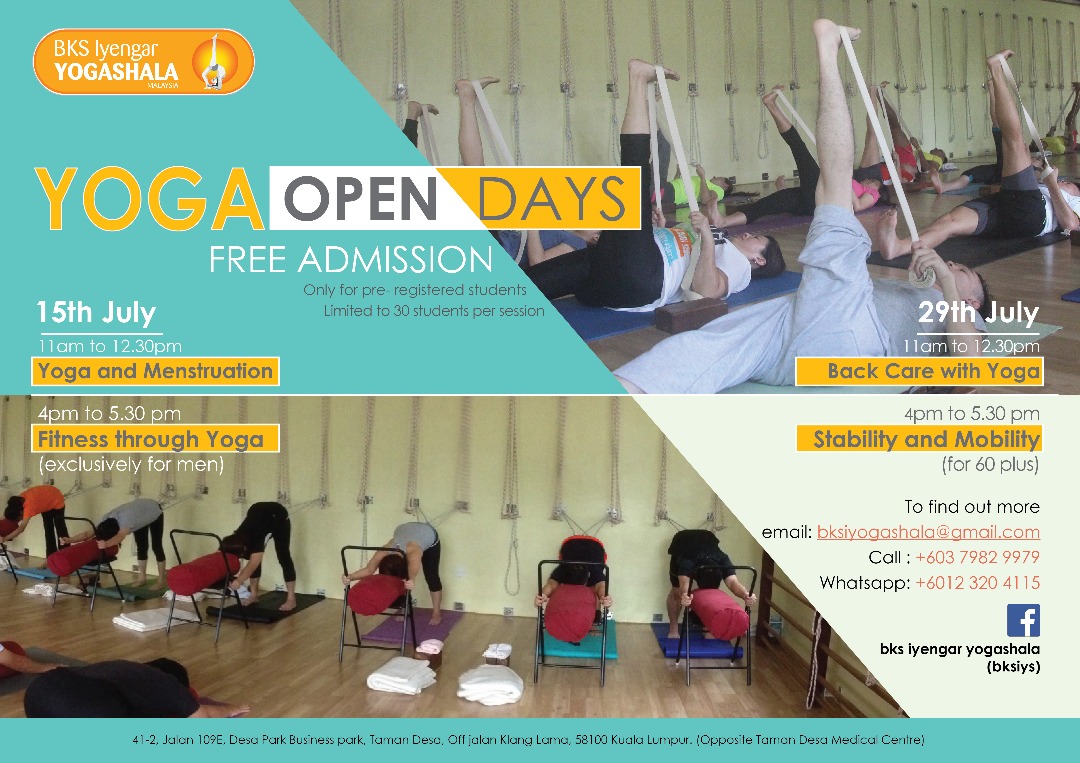 Yoga has been practiced by millions throughout the world for a simple reason:
It is a union of the body, the breath and the mind. The practice of being in a pose (asana) stills the mind and the syncronization of breath and postures, creates harmony within us. When we are in harmony, we are better equiped to journey through life and lead a calmer, happier, fulfiling lifestyle. Yes, yoga is a choice towards a healthful life. According to the World Health Organization (WHO), "HEALTH" – is a state of complete physical, mental and social well-being.
BKS Iyengar, widely acknowledged as the foremost living yoga master in the world, caringly passes this tradition to all yoga practitioners. BKS Iyengar Yogashala offers various classes, remaining true to the Iyengar method of teaching and guided by experienced yoga teachers.
For information on Introductory Courses at BKSI Yogashala please click here.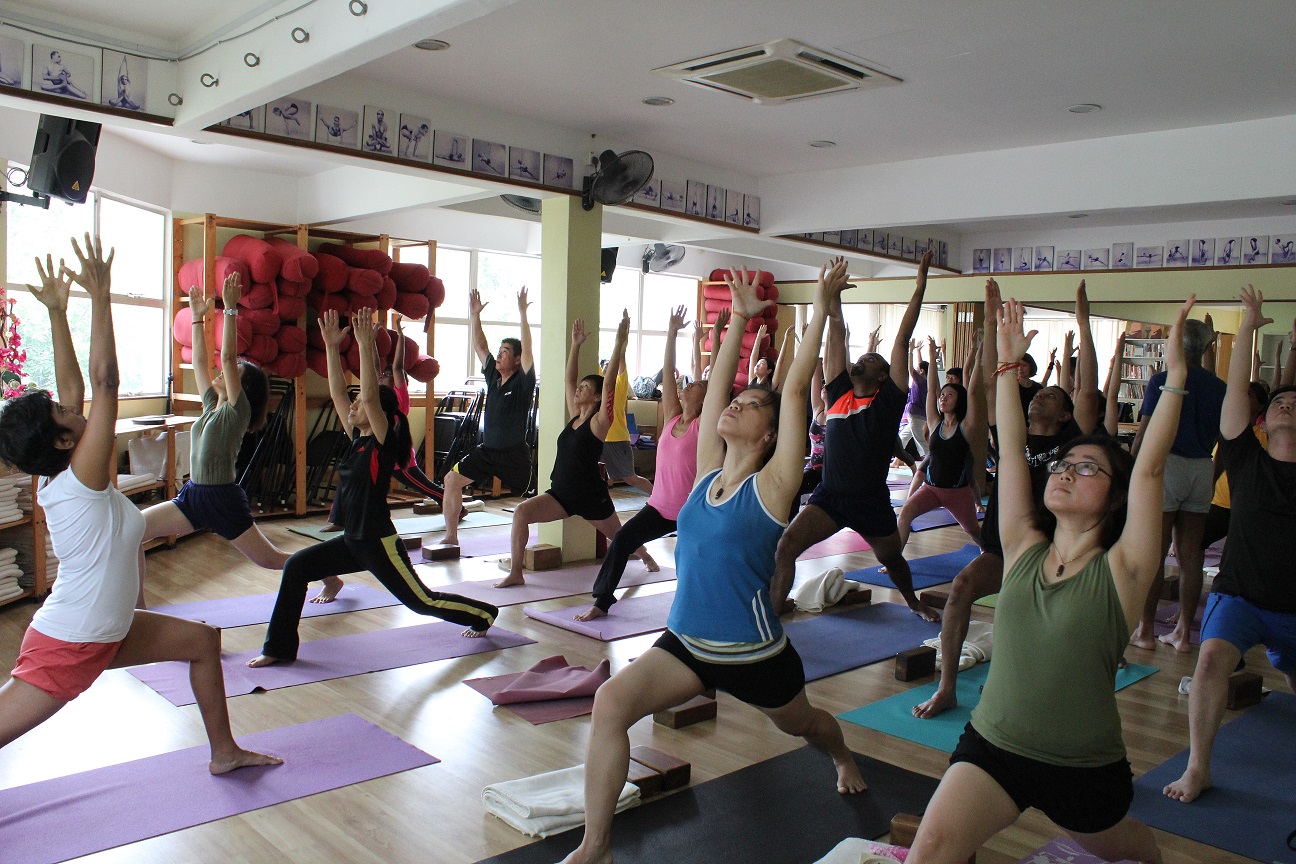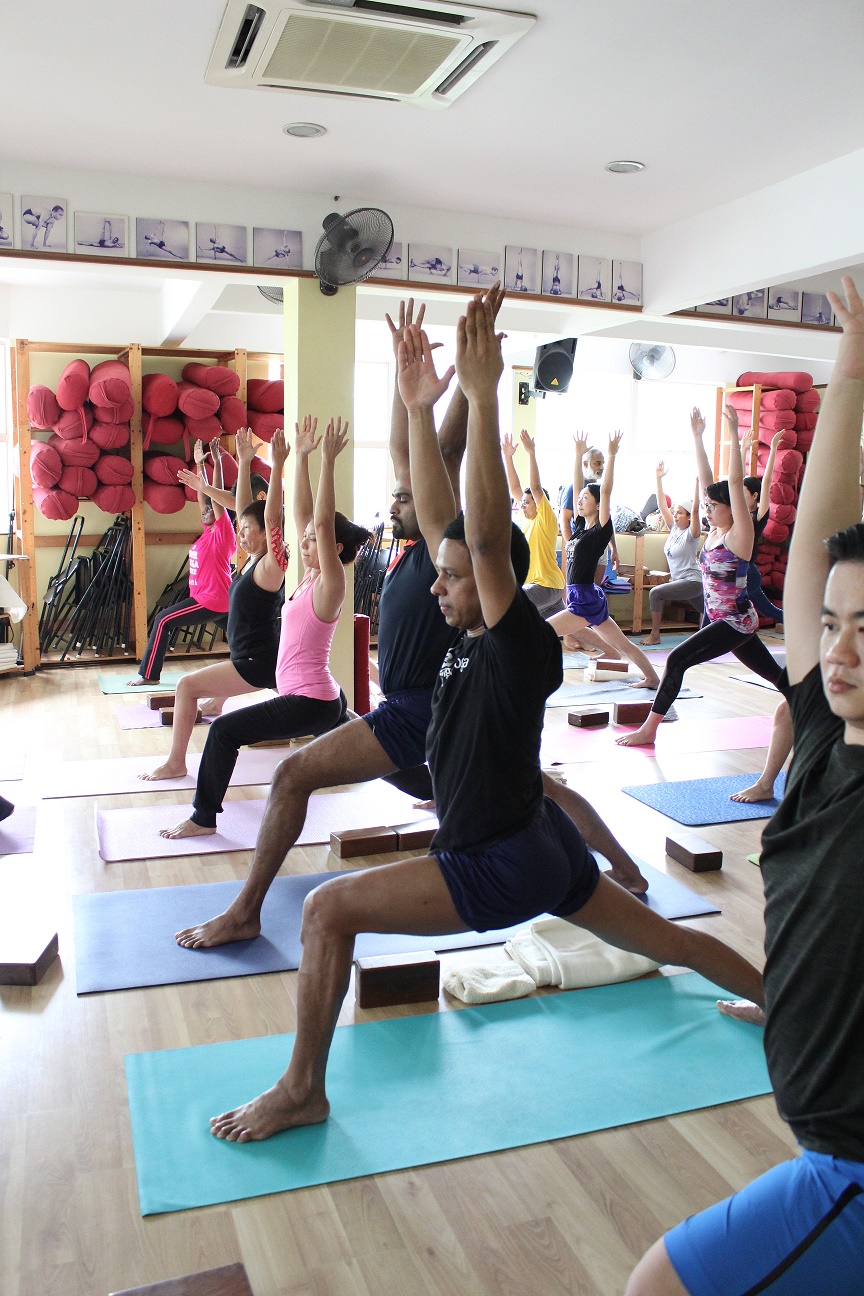 Yoga Class FAQs
1. What should I wear?
Your yoga attire should allow you to move freely. Don't wear anything which is too tight or too loose. It is important that the teacher and you should see your knees and feet. Most people wear shorts or leggings and tee shirt.
2. I have back pain, knee pain, injury or other health problems. Can I get any help from yoga?
Many students are practising yoga to take care of their joint pains like knee or back or shoulderache. Before the class begins, please inform your teacher of any physical injuries or health problems. If your condition is serious, our specialised remedial class will be more appropriate. Please consult with our teachers for more information.
3. I'm pregnant. Can I still practice yoga?
Yes, but Open Day is not for you.
If you've never done yoga before, you should wait until the 14th week of pregnancy and attend a prenatal class. You may join at any time up to the 28th week of pregnancy. Only students with iyengar yoga experience may continue after the 28th week.
Registration FAQs
1. What are my transportation/parking options for getting to and from the event?
- Street Parking
- Public Transit (RapidKL Bus 650 services between Pasar Seni LRT Station and Taman Desa)
2. How can I contact the organizer with any questions?
You may call to +603 7982 9979 / +6012 320 4115 or email to bksiyogashala@gmail.com for any inquiries.
Click here for more information.