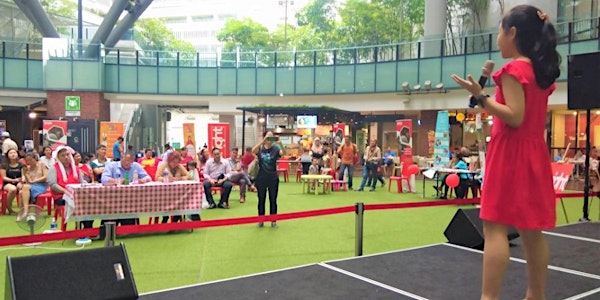 [FREE CLASS] KIDS OR TEENS PUBLIC SPEAKING (AGE 7-16)
Claim our ​1 Hour FREE Trial Class without any obligation! Let your children master the art of Public Speaking now.
When and where
Location
Ebright @ Subang Taipan OR Online Zoom 21-2, Jalan USJ 10/1D, Taipan Business Centre Subang Jaya, Selangor 47620 Malaysia
About this event
🏆 𝗧𝗿𝗮𝗻𝘀𝗳𝗼𝗿𝗺𝗶𝗻𝗴 𝗬𝗼𝘂𝗿 𝗖𝗵𝗶𝗹𝗱'𝘀 𝗖𝗼𝗻𝗳𝗶𝗱𝗲𝗻𝗰𝗲 𝗜𝗻 𝟭𝟮 𝗪𝗲𝗲𝗸𝘀 🏆
Does Your Child Lack Of Confidence To Speak❓
☺️Ebright is one of the 𝗧𝗼𝗽 𝗣𝘂𝗯𝗹𝗶𝗰 𝗦𝗽𝗲𝗮𝗸𝗶𝗻𝗴 𝗖𝗲𝗻𝘁𝗿𝗲 𝗶𝗻 𝗠𝗮𝗹𝗮𝘆𝘀𝗶𝗮 in building confidence in public speaking for your child. Our teaching philosophy includes:
𝗙𝘂𝗻 𝗜𝘀 𝗔 𝗠𝘂𝘀𝘁: Learning-through-play educational methodology to ensure kids are having FUN while Learn at the same time
𝗟𝗼𝘄 𝗦𝘁𝘂𝗱𝗲𝗻𝘁-𝗧𝗲𝗮𝗰𝗵𝗲𝗿 𝗥𝗮𝘁𝗶𝗼: More attention is given to your child to ensure they complete their tasks
𝗪𝗲𝗹𝗹 𝗦𝘁𝗿𝘂𝗰𝘁𝘂𝗿𝗲𝗱 𝗣𝗿𝗼𝗴𝗿𝗮𝗺: We are adhering to Trinity College London Assessment from the UK
𝗘-𝗹𝗲𝗮𝗿𝗻𝗶𝗻𝗴 𝗣𝗹𝗮𝘁𝗳𝗼𝗿𝗺: Allow students to study and submit their homework at their own pace
𝗣𝗹𝗮𝘁𝗳𝗼𝗿𝗺 𝗧𝗼 𝗦𝗵𝗼𝘄𝗰𝗮𝘀𝗲: Provide an opportunity for children to showcase, keep learning, take part in showcase, examination, or competition
With 𝟱 𝘆𝗲𝗮𝗿𝘀 of excellent track record, 𝟭𝟬 𝘀𝗰𝗵𝗼𝗼𝗹𝘀 are running our program, and 𝟒𝟱𝟬 𝐚𝐜𝐭𝐢𝐯𝐞 𝘀𝘁𝘂𝗱𝗲𝗻𝘁𝘀 currently, we know what it takes to transform your child. 🏆
👉Register for Our 𝗙𝗥𝗘𝗘 𝟭-𝗛𝗼𝘂𝗿 𝗔𝗰𝘁𝘂𝗮𝗹 𝗖𝗹𝗮𝘀𝘀 Now! Online and Offline classes are available for age 7-16 yo!
Register at https://www.ebright.my/free-online-trial-class
You may click on https://wa.link/88r2lp to WhatsApp us at 010-9898351 for further info about our FREE trial class :)