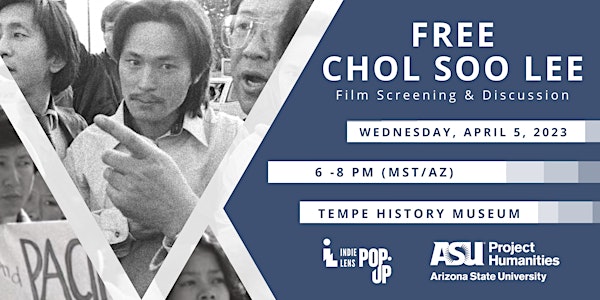 Free Chol Soo Lee: Film Screening and Discussion
The rollercoaster life story of Chol Soo Lee, a Korean immigrant wrongfully convicted of murder.
When and where
Location
Tempe History Museum 809 East Southern Avenue Tempe, AZ 85282
About this event
Sentenced to death for a lurid 1973 San Francisco murder, Korean immigrant Chol Soo Lee was set free after a pan-Asian solidarity movement of Korean, Japanese, and Chinese Americans helped to overturn his conviction. After 10 years of fighting for his life inside San Quentin, Lee found himself in a new fight to rise to the expectations of the people who believed in him.
Join us for a preview screening of an exclusive hour-long excerpt of Free Chol Soo Lee, followed by a community discussion with local experts, academics, and activists working in the field of criminal justice and Asian American studies.
Event Details
Date: Wednesday, April 5, 2023
Time: 6:00-8:00 PM (MST)
Discussion topics include: racial injustice, racial profiling, grassroots movements
For those signing up virtually - virtual link to join the event will be sent out three times: 24 hours in advance, 2 hours in advance, and 10 minutes in advance.
About the film
Free Chol Soo Lee tells the story of a Korean American death row inmate convicted of a 1973 Chinatown gangland murder in San Francisco, and the activists who led a pan-Asian American movement to free him. Spanning the late 1970s to the early '80s, this movement would for the first time bring together young, third-generation Asian American activists, many of them politically radical, with older, conservative Korean immigrants. Their unlikely victory, with Lee walking into freedom in 1983 after 10 years in prison, would inspire many young supporters to pursue careers dedicated to social justice. The film will explore the complex legacy of this landmark yet largely forgotten Asian American social movement, and how Lee and his supporters would intimately shape each other's lives, during his imprisonment and long after his release.
Trailer: https://youtu.be/pqVbIHsOOmc
Accessibility Statement
All abilities are welcome at this event. We strive to make our programs accessible to the largest number of people possible, and are always looking at ways to remove barriers. In preparation for this event we have made sure that:
The location is wheelchair accessible.
Closed captioning will be provided during the film.
Livestream via Facebook and Zoom is available for those not able to attend in-person.
The introduction and panel discussions will be accompanied by transcription services on Zoom. Attendees will have the opportunity to view live captioning on their personal devices.
All speakers will have microphones.
We also ask that participants please refrain from any strong scents or fragrances.
If you have accessibility requirements, please contact projecthumanities@asu.edu so we can work together to find an accommodation for your request. This page will be updated with additional accessibility information as it becomes available. Please check back often.