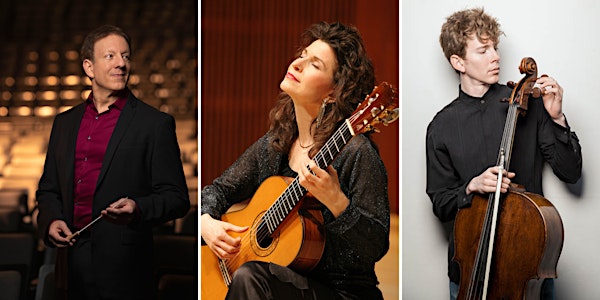 FREE Chicago Philharmonic Panel Discussion: The Work of Composer Tan Dun
A panel discussion featuring world renowned guitarist Sharon Isbin in advance of the American Premiere of Tan Dun's Guitar Concerto
When and where
Location
Chinese American Museum of Chicago 238 West 23rd Street Chicago, IL 60616
About this event
The Chicago Philharmonic is thrilled to present a pre-concert panel discussion in advance of our upcoming concert featuring the American Premiere of Chinese-American composer Tan Dun's Concerto for Guitar and Orchestra (Yi2).
Leading the discussion via Zoom is multi-Grammy Award winning classical guitarist Sharon Isbin, who commissioned Yi2 and worked extensively with Tan Dun. Rising star cello virtuoso Joshua Roman, who will perform Tan Dun's Crouching Tiger Concerto, also joins via Zoom. The conversation will be moderated by Chicago Philharmonic Artistic Director Scott Speck, and will be followed by a performance by the Sound of Wishes guzheng ensemble.
Tan Dun's Yi2 is inspired by Spanish flamenco guitar, and the ancient Chinese pipa lute.
This event is supported by the Chinese American Museum of Chicago and the Chinese Fine Arts Society.
Tickets to the panel discussion on January 7, 2023 are free.
To purchase tickets to Chicago Philharmonic's January 14 concert featuring the American Premiere of Tan Dun's Concerto for Guitar and Orchestra, visit chicagophilharmonic.org/tan-dun/
About Chicago Philharmonic
Founded by musicians of the Lyric Opera Orchestra in 1989, The Chicago Philharmonic Society is a collaboration of nearly 200 of the highest-level classical musicians in the Midwest. Our orchestra, known as the Chicago Philharmonic, has been called one of the country's finest symphonic orchestras, and our unique chamber music ensembles perform as Chicago Phil Chamber. The brilliance of our structure is in our versatility – we curate the best ensemble for each concert from our exceptional pool of musicians, be it classical, jazz, pops, movie concerts, outreach programming, and everything else. The Illinois Council of Orchestras has awarded Chicago Philharmonic "Orchestra of the Year'' (2018), "Programming of the Year" (2019), "Community Relations of the Year" (2019), "Executive Director of the Year" (2020), and "Conductor of the Year" (2021).
About The Chinese American Museum of Chicago
The Chinese American Museum of Chicago (CAMOC) seeks to advance the appreciation of Chinese American culture through exhibitions, education, and research and to preserve the past, present, and future of Chinese Americans primarily in the American Midwest. The museum opened in 2005 in Chicago's Chinatown neighborhood. It suffered a damaging fire in 2008, and reopened in 2010.
About the Sound of Wishes Ensemble
Emily Zhao founded the Sound of Wishes Ensemble (SoWE) in 2017. From its initial small group of Guzheng musicians, Sound of Wishes has always been dedicated to cultivating cultural diversity and helping under-resourced kids in the community. SoWE performs all throughout the Chicagoland area, with the goal of raising awareness for Eastern Asian culture and music. In addition, we are active on our Youtube channel and offer Guzheng music lessons as well in hopes of inspiring others to learn, listen, and value Eastern music. Through various fundraisers, scholarships, and donations, SoWE has raised over $10,000 for organizations committed to providing relief for kids with limited opportunities, such as Make-A-Wish Foundation and Feeding America.