In line with Malaysian Industry 4.0 approach, STYLUS is offering fully funded training program. To enhance overall skill set of IR 4.0 tech
About this event
Warm Greetings from STYLUS ASIA. (info@stylusasia.com)
FREE CERTIFICATION TRAINING for MALAYSIAN WORKFORCE.
Training Title: IRVE4.0 & DIGITAL INTEGRATED "TIME-VENDING" TECHNOLOGY
To register please complete the google form
https://forms.gle/8PXJNSBKdWLWjf6f8
Term & Condition (Mandatory)
* Only applicable to Malaysian identity card (IC) holders.
* Applicant should be working in Malaysia. (Employer details and acknowledgment from the employer is MANDATORY once your application been approved). You can be employed under Enterprise, Sdn Bhd, Berhad, or any registered companies under SSM.
* Participants need to attend the full duration of the training session.
We Have Limited seats, with FIRST come FIRST serve basis.
In line with the Malaysian Industry 4.0 approach, STYLUS is offering a fully funded training program. The purpose of this training is to enhance the overall skill set of Malaysian workforce in industry 4.0 technologies.
TOPICS COVERED….
Classroom training (3 Days) – (from 9am – 5pm)
Day 1 IR4.0 and its building blocks
Day 2 Information Technology (network and data) into IR4.0
Day 3 Applications of IR 4.0
Online / Assessment
Day 4 – 30 Exposure at the workplace and 100 hours of videos related to Industry 4.0.
3 Days Classroom Training Schedule Options
OPTION 1 – 26 July (Mon) till 28 July (Wed)
OPTION 2 – 29 July (Thu) till 31 July (Sat)
OPTION 3 – 2 Aug (Mon) till 4 Aug (Wed)
OPTION 4 – 5 Aug (Thu) till 7 Aug (Sat)
TRAINING LOCATION: ARA DAMANASARA, PJ, Selangor.
If you are interested to join this FREE training, please access this URL (https://forms.gle/8PXJNSBKdWLWjf6f8) and fill in the google form.
For more information, please refer to the attached brochure.
Certification by University of Cyberjaya upon completion of the course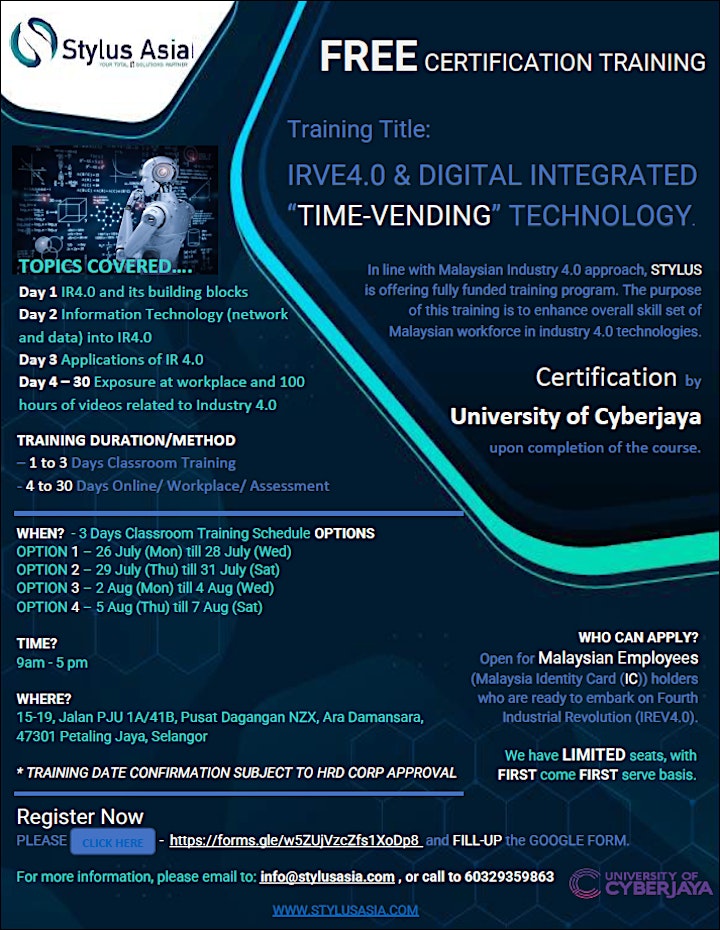 REGISTRATION FORM (Please fill-in this form):
https://forms.gle/8PXJNSBKdWLWjf6f8
Organizer of FREE CERTIFICATION "IR4.0 & DIGITAL INTEGRATED "TIME-VENDING" TECHNOLOGY"