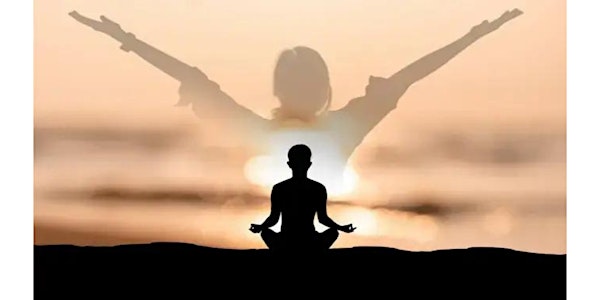 Multiple dates
Free Career Empowerment & Meditation Class - Bandar Seri Begawan
Meditation makes everything in life better, especially career!
Date and time
February 1, 2022 · 10am - October 28 · 9:30am +08
Location
Online via Zoom See Confirmation Email for Zoom Link Bandar Seri Begawan, Brunei-Muara District BA1111 Brunei Darussalam
Refund Policy
Contact the organizer to request a refund.
Eventbrite's fee is nonrefundable.
About this event
"If only people would give meditation a real try, they'd experience directly for themselves how it's an absolute game-changer in life and in career. After all, many of the most successful people on the planet, from athletes to CEOs, meditate regularly. Then, there are all of the MRI studies that show how the brain becomes neuro-plastic, which means it physically changes toward balance and happiness with short amounts of daily meditation. What the ancients have known for millennia is now clearly proven in our modern science. And happy people are more engaged in their work."
~ Chitananda
In this class:
- Learn how to enjoy a long, successful career - no burn-out
- Overcome negative thoughts that keep you from realizing your full potential in career
- Take your current career to a whole new level, or reinvent your career completely
- Learn to balance power with humility... as you grow, you deepen into your own heart
- Discover a very unique style of meditation that gives power to your career for years to come
-----------------------
A Zoom link will be sent to your inbox!
After signing up, you will receive a confirmation email from Eventbrite. Please scroll down to the Additional Information section to see the Zoom link.
-----------------------
Note: We are an international community meeting weekly, made possible by Zoom. Many students have been attending for weeks, months, or even years. Many/most of us share our cameras, which means you're likely to feel a strong sense of community and camaraderie. In fact, we likely have had many people from your city in the class. That said, others from your city may or may not attend this week's classes.
Etiquette is very important for meditation webinars:
- Be 5 mins early or on time.
- more than 5 mins late is disruptive to the class.
- Tidy your space, no distractions, no eating, etc.
- No one casually listening in.
- Bring the same focus as you would bring to class in person.
- Camera on please. Seeing each other fosters trust and a sense of community.
This class is for you if:
- You want to be successful in your career, studies and/or athletics.
- You need a way out of career burn-out.
- You simply want more balance in your daily life and relationships.
- You want to feel happy a lot more often!
- You want to relish in life in all of its FULLNESS, unobscured by heavy thinking mind.
- You truly want to give to others... Being bright and balanced, especially in the most difficult situations, puts you in a unique position to be of service to others.
ALL ARE WELCOME
This class is designed for students and young professionals. All are welcome. Beginners and experienced meditation practitioners alike. Religious and non-religious. People of all walks of life who want to learn to hone balance and happiness in their life, with a powerful career.
WHAT TO EXPECT
We begin with a short meditation. Then, a talk on career empowerment, followed by a slightly longer meditation. You may ask questions after class if you like.
ABOUT THE TEACHER
Chitananda has worked for many years as a Software Developer, Project Manager, and CEO & Founder for both Silicon Valley startups as well as some of the largest tech companies in Silicon Valley, California.
Chitananda is also a Career & Spirituality Coach, with a proven record of lifting his people in position, salary and state of mind.
Chitananda has also studied Buddhism, in a heart-centered tradition, for over 19 years. He has applied these ancient teachings to many arenas in life, including athletics, academics, family life, and career. As Chitananda teaches it, Buddhism is a psychology that leads the practitioner to peace, balance, happiness, and success in all of life's pursuits.
"The ancient Buddhist and Yoga texts have been applied to farm life, monastery life, and family life for millennia. The same teachings are still perfectly relevant to our everyday lives in this tech-driven world with all of its beautiful complexity. In this world, the home office becomes our monastery, our work becomes our offering to humanity, our family life becomes a playground to practice compassion and balance. You see? We are in the perfect time and place to practice the ancient teachings and rise to new heights, both within our minds and in career!"
~ Chitananda
FREE CLASS
This class is free for all. Chitananda's guiding purpose in life is to bring happiness and balance to as many people in this life as he can. He never wants money to get in the way of a student learning the inner arts.
That said, if you are in a position to support the upliftment of students and professionals via this class, your donation is most welcomed. All funds go to:
- Zoom membership ($20/mo)
- Meetup.com membership ($22/mo)
- Room rental for his in-person UC Berkeley class ($200/mo)
- Printing full-color posters for town and campus ($100/mo)
- Chitananda drives 55 miles to his class at UC Berkeley: Gas ($110/mo)
About the organizer
Become Butterfly is an organization by Vietnam Sangha to introduce people to meditation. We are empowered by the light & wisdom of our dear spiritual teachers. Become Butterfly focuses on practice of Meditation, Mindfulness and Karma Yoga.