Free Call Tonight on "Art of Intentional Networking" Teleseminar

Tuesday, November 29, 2011 from 6:30 PM to 8:00 PM (PST)
Event Details

 Calling Women, Change Agents, Womenpreneurs, and Creators of a Better World…  
Join us tonight at 6:30 p.m. on a FREE Teleconference Call
Phone number: (925) 948-9530
PIN Code: 792416#

To attend, visit:
http://InstantTeleseminar.com/?eventID=24421350
Finally, a Blueprint for How to Intentionally Master Your Networking Ability to Build Your Business to new Levels of Growth!
Tonight's Call Facilitated by:
Sahar Kordahi, Community Builder Coach
 Dr. Gary Salyer, NLP Practitioner
Lisa Kotecki, Social Media Expert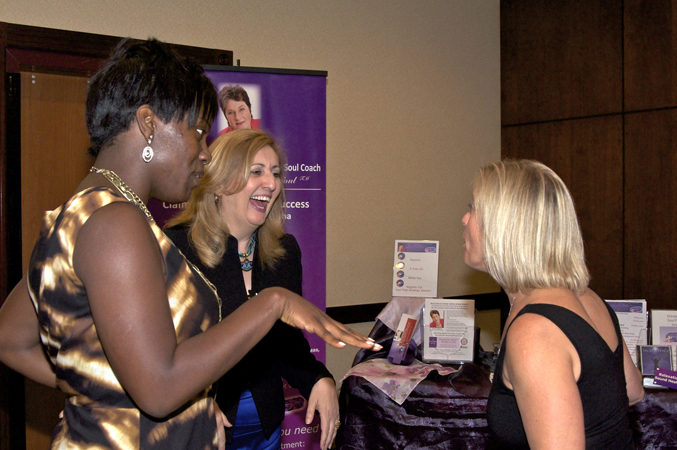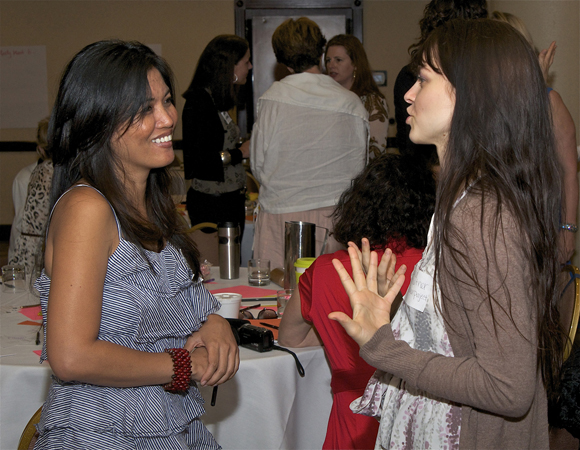 Introducing,
"Art of Intentional Networking"
Tonight 6:30pm - 8:00pm on Call or Online

Join us tonight on a teleconference to discover new ways of Networking for Growing, Building, Cultivating, and Leveraging Your Personal, Business and Global Connections While Doing What You Love.
On this call, I'm bringing together two experts who know who know various networking skills, techniques, and tools that you will need to be a more effective networker and build a stronger, supportive, and collaborative community.
We will cover Intentional Networking and social media with Lisa Kotecki.
Mindset and Networking with Dr. Gary Salyer, NLP Practitioner.
"Your life is a mirror of relationships; every person in your life is a mirror of you."
Here is what you will discover when you join us tonight on this content-rich, interactive call:
• Cutting edge intentional networking techniques for creating relationships that are magnetic and memorable
• How to intentionally use social media to your advantage and why that should be a small part of your overall plan
• The most common mistakes women make when they are at networking events
• How to generate unlimited leads with ease and how to turn them into paying clients
• Powerful and effective ways for asking for business and support
• How to expand your global connections for your personal and business growth
Join Us Tonight:
Tuesday, Nov 29, 6:30-8:00pm

Phone number: (925) 948-9530
PIN Code: 792416#

To attend, visit:
http://InstantTeleseminar.com/?eventID=24421350
• Discover The Art of Intentional Networking in three communities: personal, business, and global
• Be introduced to a new style of building stronger, deeper, and more passionate connections in business and in life
• How to Intentionally use social media to your advantage and why that should be just a small part of your overall plan with Lisa 
• Why Networking is not working with Dr. Salyer
Guest Facilitators include 

Meet Social Media Expert 
Lisa Kotecki 
• How to intentionally use social media to your advantage and why that should be a small part of your overall plan
• How to become a much sought-after expert online in your field
• How to avoid the three most common mistakes in social network
Meet NLP Practitioner
DR. Gary Salyer 
Dr. Salyer will provide needed change, work, and transformation strategies so you can:
 • Discover powerful ways to develop your inner networking game
 • Explore strategies for becoming safe with success
 • Find out what can mentally stop you from successful networking and what you can do about it
Meet Community Builder Coach

Sahar Kordahi
Community Builder Coach and Founder of the Bright Side of Life Gathering
      Sahar Kordahi, founder of "The Bright Side of Life" Women Gatherings, is a Life Purpose Coach, community builder coach, and speaker who has devoted her business to assisting women create powerful communities. She sees her work as helping women all over the world unearth their passion and purpose as they create supportive communities in which they feel that they belong. 
    The Bright Side of Life began quietly in 2008 with six members meeting in Sahar's family room. Sahar's vision of gathering like-minded women from diverse backgrounds to celebrate their beauty and uniqueness as women has now grown three years later to include more than 300 members. Her mailing list has more than 18,000 readers, and she is widely known in the Bay Area for her powerful community building master mind groups for women.    
    In 2009, Sahar was named Women-owned Business of the Year for the San Ramon, Danville, and Alamo Region by The Women's Initiative for Self Employment.
    She is devoted to the success and happiness of her clients, spending influential time with her two teenage daughters; enjoys walking and connecting with nature, photography, traveling the world, and spending inspirational sessions with her monthly women's gathering, "The Bright Side of Life."

To learn more about Sahar, please go to: www.saharkordahi.com 
 Sahar's Recent Accomplishments Include...
• Growing a community like "The Bright Side of Life," from 8 to 250 members in less than a year and a half
• Having nationally known speakers, such as Dr. John Gray to present on stage
• Receiving over $65,000 of FREE Business and personal development training
• Becoming a recognized expert in her industry as 'the community builder coach'
• Participating in global telesummits with internationally known visionaries such as Deepak Chopra, Marianne Williamson, and Indira Gandhi
• Getting published in the Wall Street Journal
• Featured in front of 8,500 people in Australia on the stage of Sir Richard Branson • Taking part in a movie with Dr. Wayne Dryer
• Participating at Maria Shriver's women conference featuring worldwide visionaries, authors, politicians and Fortune 500 CEO's such as Warren Buffet, Dr. Oz, Louise Hay, and Gov. Arnold Schwarzennegge to name but a few
• Recognition by major corporations such as Chevron as a community leader who is making a difference
• Getting awards like the Women Owned Business of the Year Award by Women's Initiative
Organizer
Sahar Nafal, Founder of the Bright Side of Life