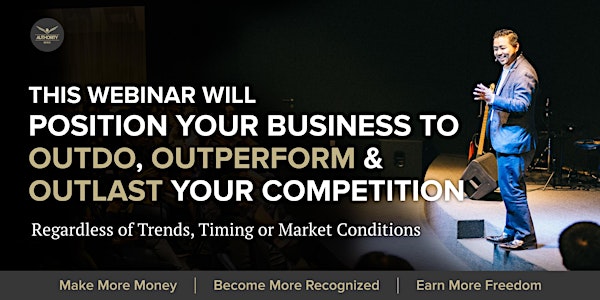 [FREE Business Webinar for Entrepreneurs] New Profit Webinar
Discover venture building frameworks to Find, Keep & Grow New Profits, from a serial entrepreneur who has started 80+ businesses & 4 IPOs.
When and where
Date and time
Friday, April 3, 2020 · 7 - 10pm PDT
Refund Policy
Contact the organizer to request a refund.
About this event
Are You Struggling to Grow Your Business?
Are your business expenses increasing faster than your sales?
Is your business generating income from limited sources?
Are you losing good talent and failing to attract new ones?
Do you have the nagging feeling that you've some hidden goldmine somewhere within your business, but don't know where to look?
Are you losing existing customers and can't seem to secure new ones?
Then set aside 3 hours on Saturday, 4th April for the NEW PROFITS WEBINAR.
In this 3-hour online training, you will learn the 3 Profit Accelerators from a local serial entrepreneur who has started 80+ businesses in 13 industries and 3 countries, with 4 IPOs.
PROFIT ACCELERATOR #1
The 4 Levels of Entrepreneurship
If you don't know where you are, you can't get to where you want to be. Discover the specific indicators to know what level you are at on your entrepreneurship journey and how to strategically move up by focusing on the right areas.
PROFIT ACCELERATOR #2
The New Profits Framework
You've seen businesses succeed during the worst crisis, and you've seen those who failed even when times are good. Imagine if you have a clear dashboard of your business and the external factors governing its success. How different will you ride the wave of change?
PROFIT ACCELERATOR #3
The Rocket Profits Method
If you look at public listed companies, or any successful businesses, you will realise they have one thing in common - multiple revenue streams. In this session, you will learn how to effectively classify your business income, identify how to find, grow and keep new revenue sources.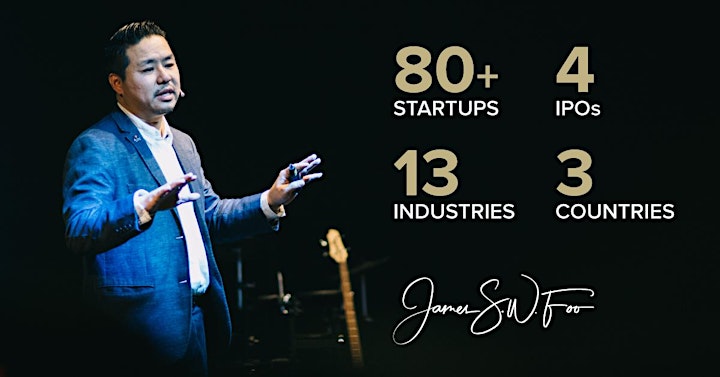 Hi, I'm Dato James Foo, and together with my team, we've studied thousands of businesses, 80+ of them my own.
We looked at ventures across different industries, market segments and countries; and discovered why some failed even when they have customers and funding, while others succeed despite the odds stacked against them.
As a result, we have put together a framework, tested it against different business types, sizes and stages; and realised one critical piece of information that the successful ones are not openly sharing:
There are fundamental, natural laws of business building that successful entrepreneurs use to their advantage since the early days of men. And from those principles, they have created business empires that last for generations.
Over the years, we've shared this framework informally with our clients and close friends.
We've seen lightbulbs go off as they saw the missing piece of the puzzle.
We've given them clarity when the markets were hazy with distractions.
We've shown them the hidden goldmine that was buried in their backyard the entire time!
And for the first time, I'm going to share this framework online.
The New Profits Webinar is specifically designed to help you and your team do one thing:
Find, Grow & Keep New Profits.
So, if you're tired of letting environmental factors like the COVID-19 virus, overseas competition, and political drama throw your business around, causing you to move one step forward but three steps back, or just struggling to survive month to month, you need to be at the NEW PROFITS WEBINAR.
See you at the top!
About the organizer
You know how businesses always want to drive more sales, attract more customers & build better relationships?
At Authority Institute, we help clients do that by creating and distributing content effectively, so they can attract, acquire and engage their target audiences.
Let's face it, you are already the expert in your field. Want to level up and become the Authority?
Truth is, there's only one difference between an expert and an authority - Influence. And at Authority Institute, we can help you engineer your influence.