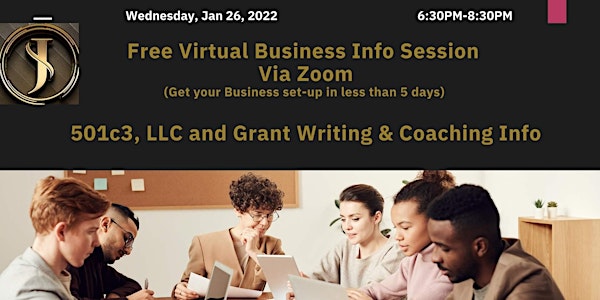 FREE BUSINESS START-UP & GRANT WRITING COACHING OVERVIEW
Free In- Person Business Set-Up & Grant Writing Coaching Overview Workshop
About this event
FREE In- Person Business Set-Up & Grant Writing Coaching Overview Workshop
Our Covid 19 protocol. You must were a mask to enter and practice social distance.
This is a FREE WORKSHOP for those who want the opportunity to get set up in as little as 5 days, SO REGISTER NOW! And have your business set-up for the beginning of the New Year 2022.
Learn how to get your 501c3 started and/or LLC. With your 501c3 you can design a business that benefits the general public, such as charitable, educational, literary, religious, and scientific organizations. You can direct civic leagues, homeowner's associations, and many types of nonprofits that qualify for 501(c)(3) status. There are many advantages. Incorporating helps protect your personal assets, build credibility with potential donors, and unlock funding to you. I will also discuss grants and other funding and coaching for the new year. or set-up a strictly profitable LLC business
Many aspiring entrepreneurs are turning their small business ideas into reality. During a global pandemic, a record number of Americans are applying for new businesses. So don't stall another day if you are ready to soar while the pace of startups business has a lot of potential NOW is an excellent time to get started and if you're ready you're coming to the right place.
Organizer of FREE BUSINESS START-UP & GRANT WRITING COACHING OVERVIEW
The Journey to Success Education and Business Services (JTS) is an extension of Journey Performing Arts Center (JPAC), Atlanta, GA.  JPAC founded by Samara Michelle McConnell, M.Ed. in 2004.   Journey to Success is a organization servicing communities throughout the U.S.  Sabrina McConnell, M.Ed., M.A, MLIS is the director of the Detroit area.  Journey to Success Detroit branch offers grant writing services, business plan writing, and workshops to set-up non-profit organizations.