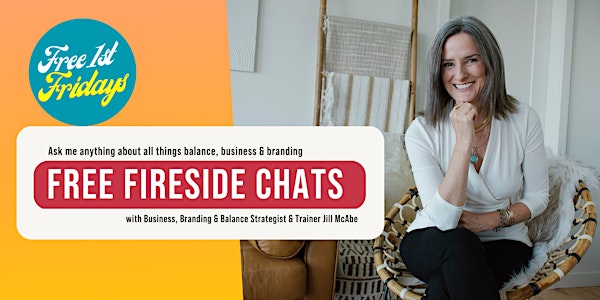 Free Business & Branding Fireside Chat
A free sixty minute monthly session to get ideas for your business.
Date and time
Fri, Apr 7, 2023 9:00 AM - 10:00 AM PDT
About this event
You join me in a Google Meet and ask me anything you want about your business, branding or worklife balance. (Examples below.) First come, first serve.
Three things to know :
1) The call will be recorded and posted publicly on YouTube, my website & social media.
2) About 1/2 way through I will take a short (5-minute) break to talk about my programs and services.
3) By signing up for this event you agree to be added to my email mailing list. I am not a heavy emailer. About weekly, I send you helpful ideas or motivating stories. Sometimes I take breaks. You can unsubscribe at any time.
NOTE: A confirmation email will be sent to you upon registration. Make sure to check your spam folder. You will receive an email before the event with the link to the Login information. You will get reminders directly from Eventbright.
***
Who It's For...
You are a consultant, coach, expert, author, or up-and-coming thought leader struggling with one of the following three challenges...
BUSINESS MODEL - you're still sorting out your foundations of: what you sell, to who, and how
BRANDING - you feel awkward talking about what you do, and need a better way to communicate your value
WORK/LIFE BALANCE - you have more to do than time permits, you need a better way to focus and prioritize
... and you want clarity and/or to see what it's like to work with me.
About Me
I am a business, branding and balance coach with well over 10 years' experience, and a proven track record of helping people like you with the critical foundations upon which the success (and sanity) of any self-employed professional or business owner rests:
You can learn more about me and areas of expertise at www.jillmcabe.com
I look forward to helping you with your business at the next Free First Friday Fireside Chat.
Jill