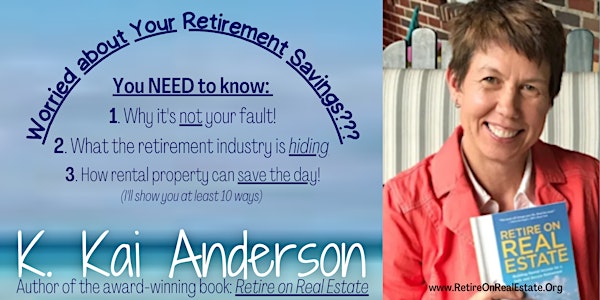 FREE! Building Rental Income for a Safe-Secure Retirement-Why SO Important!
Dirty secrets of the retirement industry... Your retirement savings are at-risk...How RENTAL PROPERTY can protect and make dreams come true!
Refund Policy
Contact the organizer to request a refund.
Eventbrite's fee is nonrefundable.
About this event
FREE WORKSHOP!!!
HAVE YOU EVER WORRIED OR WONDERED ABOUT...
Are you worried that you may not have enough saved up in the end to make your retirement dreams come true?
Have you ever thought about investing in rental property?
Have you ever wondered what chickens have to do with retirement, or with rental property?? :)
WELL GUESS WHAT???
I'm here to tell you that if you don't have enough saved - it's NOT your fault! And I'll show you why and how it is on Monday May 2!
I'm here to tell you that YES, rental property can SAVE THE DAY!
And I'm here to show you exactly what chickens have to do with rental property AND retirement!
WOMEN ARE PARTICULARLY ENCOURAGED!!! (ALL GENDERS WELCOME)
JOIN KAI FOR 2 INFORMATION-PACKED HOURS!
As she...
Divulges mind-blowing, dirty secrets that financial planners don't want you to know!
Shows you 4 ways that rental property provides authentic diversification when planning for retirement
Reveals at least 7 benefits that rental properties can do for you and your family (Hint, it's not just about money, or even cashflow, and it's not just about you. Think: future generations!)
Explains how to get started and be successful, with minimal impact on your personal life!
And lots, lots more!!!
COME ON TIME, SO YOU DON'T MISS ANYTHING!!!
8-9:30pm: Kai will present her $2000 talk. (Yes, that's right! $2000 is what the Maryland Realtors Conference paid Kai to deliver this same talk in 2018. And/but good news for you! Kai has spent the last 3 years improving this talk, so you will be getting 3x the value of her original talk!!)
9:30pm: Questions - Kai will take any/all questions!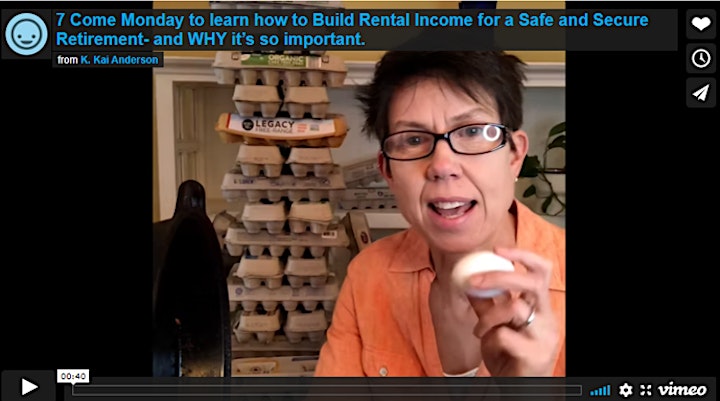 CLICK HERE TO WATCH: 40 second video invitation to Monday night's course on "The Why" (video transcript is at the bottom of this invitation)
ABOUT KAI
https://retireonrealestate.org/about
Hi there! I'm Kai... It is my mission to show you why rental property is so important for people to have as a long-term investment.
(Forget the high-pressured, unrealistic, crazy-a$$ schemes that are pitched by real estate investing "gurus". Forget, even, the super biased advice of your so-called "financial planner". I'm here to show you the middle ground - the sweet spot - that nobody is talking about, but is sooooooo important.)
About me:
Real-estate Entrepreneur & Landlord for over 15 years and roughly 100 tenants!
Speaker, Coach & MentorGuide of her course and coaching program: Building Cashflow Forever with Rental Property (How To Do It, Microstep-by-Microstep)
Author of the book: Retire on Real Estate: Building Rental Income for a Safe & Secure Retirement
Winner of a Robert Bruss Book Award, of the National Association of Real Estate Editors (2018)
Listed within the top real estate investing books of all time by The Book Authority
Forward by: Amanda Han, CPA; Founder & CEO of Keystone CPA, an accounting business specializing in real estate investing
Endorsed by:

Kevin Harrington, "Shark" on ABC's Shark Tank & Inventor of the "Infomercial"
Kim Kiyosaki, Author of: Rich Woman
Dr. Todd Sinai, Professor of Real Estate, Wharton School of Business, UPENN
-------------------------------------------------------------------
Video transcript:
Hey, if this is your brain, and this is your brain on drugs, then this right here is our brains drugged on the myth or the lie of the retirement industry.
The retirement m industry has convinced us that we need to save, save, save, save…
But that is a myth and who's to gain? They are. They're the only ones who are going to gain in that scenario. And I want to show you more about this on Monday… about why it's so important to think beyond the nest egg and get a chicken, and that's rental property.
I want to tell you all about this on Monday, Monday night. Please register below on the EventBrite link and let me tell you more about it.
---------------------------------------------------------------------
#female_investors #women_investors #real_estate_investing #realestateinvesting #investing #rentalproperty #rental_property #buy_and_hold #buyandhold #landlording #landlord #landlady #retirement #retire #financial_independence #financialindepence #cashflow #cashflowforlife #cash_flow #ROI as a way to #diversify from #financialplanner #financial_planner #financialplanners #financialadvisor #financialadviser #401k #mutualfund #stockmarket #stocks #ira #stockmarket #stock_market #crash #wholesaling #fix_and_flip #wholesale #realestate #real_estate #realestatemarket #crash #inflation #REI #entrepreneur #female_entrepreneur #femaleentrepreneur #lgbt_entrepreneur #lgbtentrepreneur #queer_entrepreneur #queerentrepreneur #realestateentrepreneur #real_estate_entrepreneur #cashflowforlife #cashflowforever