[Free] Build your first Mobile App with HTML5, jQuery, PhoneGap and a BaaS
When and where
Location
Promenade II Building, Conference Center (2nd floor), Picasso Room 1230 Peachtree St NE Atlanta, GA 30361
Description
THIS TRAINING IS ALSO AVAILABLE ON THURSDAY APRIL 18. GO TO THIS PAGE TO SIGN UP FOR THE THURSDAY SESSION: https://apigee-atl-2013.eventbrite.com
A free one-day training course to learn everything you need to know to build your first mobile app!
As taken by hundreds of people in San Francisco, Austin, Amsterdam, Denver and Los Angeles!
Absolutely, positively, 100% free!

Join us to learn how to create mobile apps for iOS, Android, Windows Phone or mobile browsers! We will review the important mobile features of standards like HTML5 and CSS. You will learn how to use a mobile UI framework (jQuery Mobile), how to package your app with a native bridge (PhoneGap) and how to add app features with a Backend-as-a-Service (open-source Usergrid). By the end of the workshop, we will have built a fully-featured app, ready for release on the app store, without having written a single line of server-side code!
Program
8:30am: Doors open — registration and coffee
9am–noon: "Build your first mobile app with HTML5 and a Backend-as-a-Service"
Intro HTML5 and Mobile Apps
Building your static app (jQuery Mobile)
Load data dynamically into your app (Usergrid)
Make your code run as a native app on your Android or iOS device (PhoneGap)
Lunch (provided by Apigee)
1pm–4pm: "Building Social, Local or Gamification into your app"
We continue building our app from the morning and extend it in the direction of your choice!
Adding user accounts to your mobile app
Building social features: friends, follows and newsfeeds
Geolocation / Gamification (2 hours, pick your own adventure block from 2 prepared training scenarios, with room to make this app your own: you can choose to add a currency system, a one-one-one messaging system, a geotargetting element, etc. — allowing you take the morning app in a number of different directions)
4pm: Demo time and drinkup! (Beers provided by Apigee)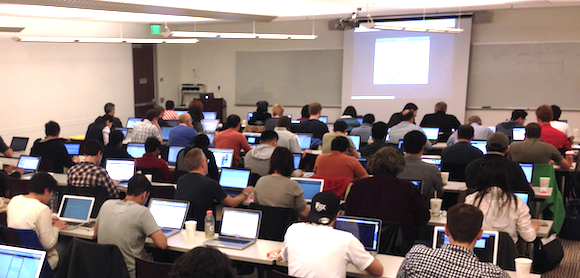 Pre-Requisites
About the Instructor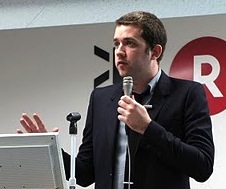 This one-day training session will be taught by Tim Anglade, public speaker, former Computer Science lecturer, and Head of Developer Programs at Apigee. Tim has spoken about app development around the world, from OSCON to Oredev & GoGaRuco, and met with mobile app developers from Silicon Valley to Seoul. He most recently gave this training in San Francisco, San Jose, Amsterdam, Los Angeles, Austin and Denver. You can find him on Twitter as @timanglade.
Here's what previous attendees have to say…
"Excellent presentation and group! A+" –c-i-e-l-o
"Awesome mobile apps training if you're looking to get a jump start with jQuery mobile and phonegap!" —@nmakiya
"Great HTML5 class today in San Fran with Tim Anglade Definitely looking forward to the advanced class next month!" —@JeffCGoss
"Shout out to Apigee for putting on a great intro to html5 mobile apps today" —@paulruescher
"Great workshop today! Left with new knowledge, great tips, a new book & a couple cold ones.......ALL FOR FREE!" —@terrance_unce
"Thanks for the great day teaching us how to build mobile apps" —@MattSobieray
"Many thanks to Tim Anglade for the awesome training on JQuery Mobile and PhoneGap. I particularly liked the RESTful API design of Usergrid" —@Luay_ca
"Thanks to you for the Mobile App, HTML5, PhoneGap awesomeness" —@adaptivepattern
"Tim Anglade did a great job. Apigee looks really cool." —@barela14
"He moved at a good pace. Packed a lot in. Was good." —@newmanw10
"Thanks to Tim for a fun day of html5 mobile apps with BaaS" —@bentuttle1
"I learned new stuff. Training was interactive. The instructor was really helpful" —Gil S., Los Angeles
"The material was great. The presenter knew his stuff and was interested in seeing his students succeed." —Nate B., Austin
"Building smartphone apps was a mystery until I attended this one." —Ved S., Austin
"I liked that individuals of diverse backgrounds and skill sets were all able to attend and learn something. Can't think of anything I disliked." —Jeff T., Austin
"Not a sales pitch, very practical info, immediately useful" —Kye H., Austin
"I am getting smarter thanks to you and Apigee for doing events like this." —Gregg P., Denver

For your Boss
You're sold? Need to convince your boss? Well, just tell him about all the things you'll get to learn in just one day!
If you're a web designer, you will learn how to design interfaces for mobile websites and mobile apps quickly, and even how to implement them on your own into working prototypes, allowing your to tackle your company's mobile projects this year
If you're a front-end engineer, you will learn how to build mobile applications that look & feel like native apps, using the tools you're already proficient with: HTML, CSS and JavaScript/jQuery
If you're a native app developer, you will learn another way to build mobile apps, that allows your company to quickly launch projects for multiple platforms (iOS, Android, Windows Phone, BlackBerry, etc.) using the same codebase!
If you're already an HTML5 or advanced app developer, you will learn how to use a Backend-as-a-service to quickly prototype, deploy and efficiently scale your company's mobile apps without needing a backend team to keep it running.
If you're a backend developer, you will learn everything you need to know about the constraints of developing & launching mobile apps, what it means for backend architectures, and how large companies with tens of thousands of employees and millions of users manager their data backends for mobile apps
In just one day, you will learn everything you need to build real apps on your own. Past example includes: store locator, employee directory, Yelp-like app, mobile intranet, HR applicant tracker, lunch ordering system, conference app, room reservation system, and many more! Spend one day in this training and you'll have the tools to tackle any mobile project your boss or customer throws at you.