[Free] Build an App with an API Backend (HTML5, jQuery & PhoneGap) - Code Michigan

Friday, October 4, 2013 from 1:30 PM to 4:30 PM (PDT)
Event Details
A free 3 hour session that will teach you free and open source tools for building mobile apps!

Join us to learn how to create mobile apps hands-on, in a friendly, fast-paced environment!
The HTML5 class will teach you everything you need to build apps that work on (iOS, Android, Windows Phone, Blackberry, mobile browsers, etc.) we will review the important mobile features of HTML5 & JavaScipt. You will learn how to use a mobile UI framework (jQuery Mobile), how to add app features with a Backend-as-a-Service (open-source Usergrid) and how to deploy your app to devices natively using PhoneGap.
By the end of the workshop, we will have built a fully-featured app, ready for release on the app store, without having written a single line of server-side code!
The HTML5 classes
The Mobile HTML5 classes are perfect for people with a background in web development or with light programming experience.
Pre-requisites
Schedule
Hour 1: Intro HTML5 and Mobile Apps. Building your mobile UI with (jQuery Mobile)
Hour 2: Add live data to your app with an API backend (Usergrid)
Hour 3: Add more screens to your app and a brief look at PhoneGap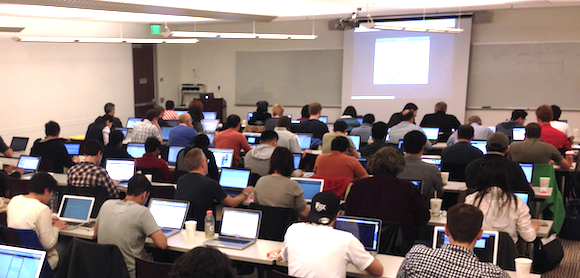 About the Instructor
The sessions will be lead by Matt Dobson a Software Engineer on the Apigee Labs team. Matt constantly builds new things on every mobile platform with the latest technologies. He's most recently organized similar classes in the Bay Area, the Midwest, and Canada. You can view his open source work on GitHub, and catch him on twitter at the handle @mdobs.  
Here's what previous attendees have to say…
"Great class … Opened up a new world for me." —@wren_jon
"Awesome mobile apps training if you're looking to get a jump start with jQuery mobile and phonegap!" —@nmakiya
"Great HTML5 class today in San Fran with Tim Anglade Definitely looking forward to the advanced class next month!"  —@JeffCGoss
"Shout out to Apigee for putting on a great intro to html5 mobile apps today" —@paulruescher
"Great workshop today! Left with new knowledge, great tips, a new book & a couple cold ones.......ALL FOR FREE!" —@terrance_unce
"Thanks for the great day teaching us how to build mobile apps" —@MattSobieray
"Thanks to you for the Mobile App, HTML5, PhoneGap awesomeness" —@adaptivepattern
"He moved at a good pace. Packed a lot in. Was good." —@newmanw10
And more… "Excellent presentation and group! A+" — "Awesome class! The materials and instruction were just right... Perfectl actually! Thanks Tim!" "I learned new stuff. Training was interactive. The instructor was really helpful" — "It was hands-on. We had the chance to actually build our application" — "It gave a clear overview of technologies useful to build mobile apps." — "The material was great. The presenter knew his stuff and was interested in seeing his students succeed." — "Building smartphone apps was a mystery until I attended this one." — "I liked that individuals of diverse backgrounds and skill sets were all able to attend and learn something. Can't think of anything I disliked." — "Not a sales pitch, very practical info, immediately useful" — "I am getting smarter thanks to you and Apigee for doing events like this." — "Some of the best training I've had - paid or not. Thanks for putting this on."

Have questions about [Free] Build an App with an API Backend (HTML5, jQuery & PhoneGap) - Code Michigan?
Contact Apigee
When & Where

Detroit Labs
1520 Woodward Ave
Detroit, MI 48226


Friday, October 4, 2013 from 1:30 PM to 4:30 PM (PDT)
Add to my calendar
Organizer
Apigee makes it easy for developers to build apps powered by APIs, manage and scale their APIs, and get real-time insights into their digital presence. Learn more at http://developers.apigee.com/