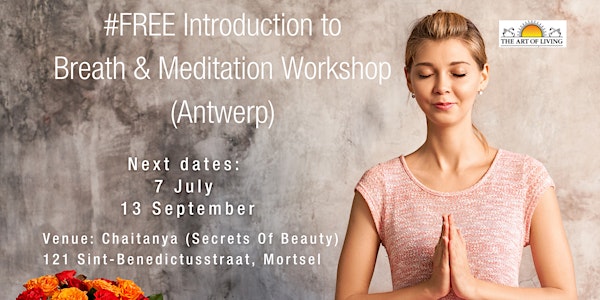 FREE Breathing and Meditation Workshop
FREE Breathing and Meditation Workshop !!!
When and where
Location
Chaitanya (Secrets Of Beauty) 121 Sint-Benedictusstraat 2640 Mortsel Belgium
About this event
Next dates: 7 July, 13 September @7:15pm
Join us for a #FREE Introductory Workshop and find out how the way you breathe has an impact on your thoughts and emotions.
✔ Discover how powerful breathing techniques can be
✔ Take home an energizing technique for daily practice
✔ Experience the peace & calm of a unique guided meditation
✔ Get an introduction to the Breath and Meditation Program (formerly - Happiness Program)
In this introductory session you will learn more about the power breath and mediation and the Sudarshan Kriya™ -- a rhythmic breath-meditation technique.
What you'll discover:
✔ Breathing techniques to energise the body and to quiet and relax the mind preparing it for deep meditation
✔ A real experience of meditation to effortlessly cut the vicious cycle of thoughts, leaving your mind focused, clear & stress-free
✔ Secret keys to managing your mind in times of distress- and how you can use this time to slow down and become more centered
The breathing techniques have been scientifically proven to quickly calm anxiety, release stress, balance the autonomic nervous system and boost immunity.
Independent research has shown that the breathing techniques significantly:
- Reduce cortisol - the "stress" hormone
- Support the immune system
- Increase optimism
- Relieve anxiety and depression
- Increase antioxidant production
- Enhance brain function (increased mental focus, calmness and recovery from stressful stimuli)
- Enhance well-being and peace of mind
Claim your free spot now! ➡️