FREE 8 Week Bomba Drumming Workshop
About this event
Learn how to drum bomba! In this 8 week drumming workshop you will learn how to play the hand drum, barril de bomba, how to tune, basic rudiments and two of the main rhythms Sica and Guembe. You will learn how to play the cua and maraca and learn basic music notation for drummers! Your teacher is master percussionist Oreste Abrantes! PuertoRican/Cuban Bronx born, Oreste has played for Latin percussion legends such as (the late) Larry Harlow, Bobby Sanabria, numerous orchestrations, drummed for Grammy nomitated West Side Story re-imagined and has played in numerous and important venues such as Lincoln Center, Canargie Hall, City Center. He has traveled the world drumming and he is one of Bombazo's lead drummers!
Paticipating Age: 12 & up (if minor must be accompanied by parent or legal guardian)
COVID 19 MANDATES:
*ALL participating students will need to wear masks for their and colleagues safety. Children must be accompanied by a parent or legal guardian. At least one parent or one legal guardian must stay for the reminder of the class on site.
Upon entry to the building, the temperature will be checked. Parents vaccinated must show proof of vaccination or most recent negative covid tests every time entering the POINT.
This is to ensure continued safety for all!
CLASS SCHEDULE: Meeting the following Saturdays: October 16, 23, 30th. November 6, 13 and 20. December 4 and 11th.
Time: 11am
Attire: Dress comfortably (jeans, jogger pants, sweaters, sneakers).
*there is limited occupancy due to the ongoing pandemic* We do encourage all students to participate in the entire 8 week workshop for a successful learning progression!
*In Class Presentation on the last day!*
Drums will be provided for those who do not have one, first come first served. If you have a drum (djembe, conga or barril) we encourage you to bring it to the workshop sessions.
FEE:
The 8 week workshop is FREE! We do encourage a ONE TIME $10.00 donation upon registration. Proceeds go to the organization's continued effort in providing high end cultural programming for the community at large!
Gracias!!! Thank You for supporting our FREE programming, Now in its 16th year!!!
LET'S CONTINUE TO MAKE THAT DRUM TALK!®
FOLLOW US ON SOCIAL MEDIA:
FACEBOOK: BOMBAZO DANCE CO
INSTAGRAM AND TWITTER: @bombazodanceco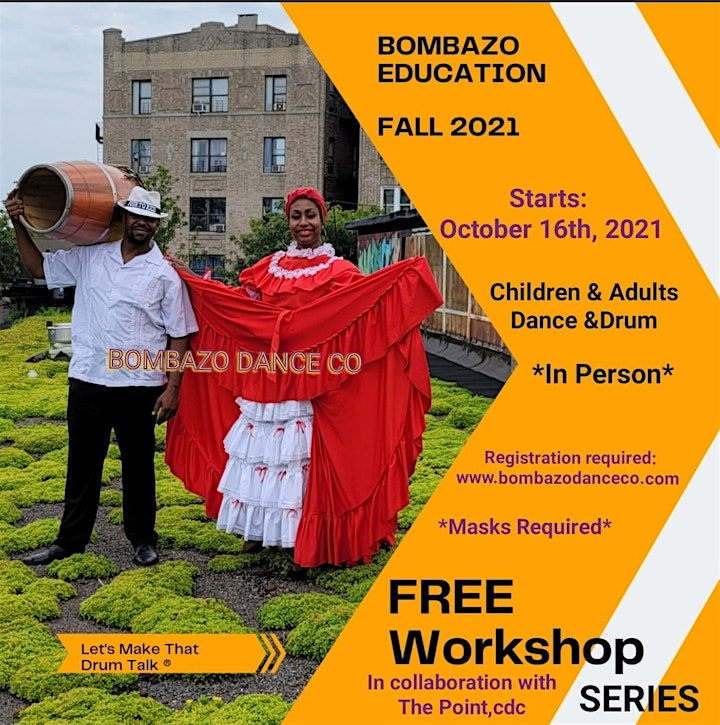 Organizer of FREE BOMBA DRUMMING Fall 2021