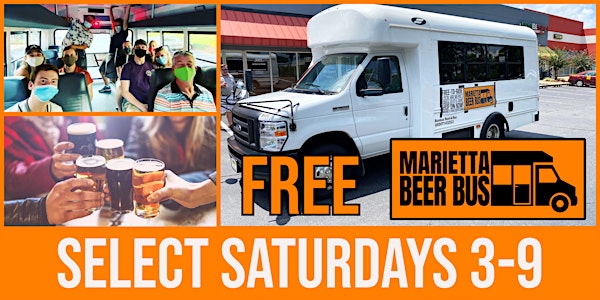 Free Beer Bus: Marietta
Don't drink and drive... Drink and RIDE!!!
When and where
Location
Shezmu Cellars Winery & Taproom 562 Wylie Road Southeast #Suite 3 Marietta, GA 30067
About this event
Hop on the Marietta Beer Bus at any Marietta craft alcohol spot from 3pm-9pm on select Saturdays to enjoy a FREE shuttle to all Marietta craft alcohol manufacturers!
Stops include Shezmu Cellars, Schoolhouse Brewing, Red Hare Brewing, Atlanta Hard Cider, Ironmonger Brewing, Viking Alchemist Meadery, Treehorn Cider, and the Still on the Square.
No reservations needed or taken, just jump on/off where you like. However you can RSVP with a ticket here to receive an email reminder about the bus. RSVPs do not guarantee a spot. The bus drives in a continuous loop from 3pm to 9pm. This service is paid for by the stops to take the logistics out of your tour of the fine craft alcohol in Marietta!
More info can be found on our website, MariettaBeerBus.com
WHERE IS THE FIRST STOP?
The bus runs constantly in a loop so each location will see a bus about every 30 minutes; however, if you want to be the absolute first people on the first bus… It begins promptly at 3:00 at Shezmu Cellars. Shezmu opens at 2:00pm to allow you time to enjoy a drink or two before boarding.
HOW LONG WILL THE ENTIRE ROUTE TAKE?
There are six total stops and the bus will arrive at each in ~30 minute intervals… So three hours to visit all the stops plus half an hour for the drive time it takes a bus to make the loop. Therefore, if you don't extend your stay at any stop AND you get on the bus each time it arrives, you will be back to your starting point in 3.5-4.0 hours.
Keep in mind you can do as you wish. There is no requirement to see all of the stops or to spend a certain amount of time at any of them either.
DO I NEED TO BE 21?
Well technically no, not to ride the bus. However, you must be 21 years old or older to purchase alcohol at any of the stops.
ARE PETS ALLOWED ON THE BUS?
No. Unfortunately, we cannot allow pets on the bus.
WHERE DO I PARK?
We strongly recommend using Lyft or Uber to get to your first stop. If you do drive though, you can park at any stop then board the bus. Also, none of the stops will be mad if you get a ride home and leave your car. Thank you for not driving drunk… It's kind of the whole point of the bus!
CAN I RESERVE MY SEAT ON THE BUS?
No. Every bus is first come, first served. However, if you have a large group, we do offer private buses to ensure you and your group have a day to remember! Contact us for a quote.
DO I HAVE TO VISIT EVERY STOP?
We certainly think that's the best experience but no, you don't have to. In fact, if you spend too much time at a couple of your favorites, it will require a second trip to complete the route. Regardless, you may get on or off the bus at your leisure!
HOW DO I GET A FREE BEER BUS IN MY AREA?
Speak to your local alcohol manufacturers and have them contact us. We will begin putting together a route!
HOW ARE THE BUSES FREE?
The participating craft alcohol manufacturers all pitch in and pay for it! All of our stops are committed to providing safe transportation for our patrons. Be sure to thank them by buying a few drinks and telling your friends to join you!