Description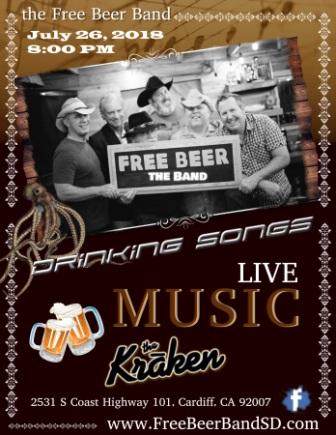 The Free Beer Band plays an assortment of Drinkin' Songs for your (and theirs) amusement.
The Free Beer Band has quickly become a favorite throughout San Diego North County.
They are sure to entertain and are known to enjoy a beer or two.
The Free Beer Band invites you to join them at one of their favorite venues for a joyous time.
---
Eric Woods - Lead Singer and Acoustic Guitar
Will Sumner - Drums
Rik Ogden - Lead Electric Guitar and Backup Singer
Kurt Boger - Bass
Steve Cardinalli - Rythmic Acoustic Guitar and Backup Singer
Toye Martindale - Electric Guitar Acoustic Guitar and Mandolin and Backup Singer

---
Their set list consists of songs such as:
Parking Lot Party
Fuzzy
That's My Story
Dirt Road Anthem
Pirate Flag
Sweet
Whiskey Girl
Red Solo Cup
Things You Don't Say To Your Wife
Little Less Talk And A Lot More Action
But wait, there's more:
Ten Rounds With Jose Cuervo
I Like Girls That Drink Beer
My Kinda Party
Angry American
American Kids
Right Where I Need To Be
You Aint Much Fun (Since I Quite Drinkin)
Beachin'
Am I The Only One
Drink It Up
And that's not all:
It's All About Tonight
Pretty Good At Drinking Beer
I Love This Bar
Flora-Bama
Toes
Right Where I Need To Be
Hell Yeah I Like Beer
And many more...
So hurry on down, show up early, stay late, hang out with the band and tip the bartender.
---