See what MedTech's brightest have to offer—and what investors really think of their pitches. Join us on WebEx!
About this Event
Join us for our annual "Shark Tank"-style pitch event!
An impressive lineup of innovative medtech entrepreneurs will face tough questions from a panel of investors regarding their technologies, current stage of development, and financial projections.
This event is a great opportunity to connect with healthcare entrepreneurs and industry-leading investors from the Boston area.
This year the focus is on unmet needs in:
Post-operative patient monitoring (soft tissue and orthopaedic focused)
Remote patient monitoring
Alternative vaccine delivery
Barracuda Bowl 2020 Presenters
Children's Mercy Hospital, Kansas City MO: Post-operative monitoring platform
EnVivo Med, Lowell MA: Wearable remote vital sign monitoring
Medicsensors Ltd, Leeds UK: Needle-free drug delivery of vaccines, insulin, other
Medsix, Boston MA: Post-operative wound drain technology
SiNON Therapeutics, Durham NC: Novel drug delivery platform
Barracuda Bowl Agenda
VIRTUAL EVENT - Presented via WebEx
4:00pm - 4:15pm: Opening Remarks/Introductions
4:15pm – 4:55pm: Company Pitches w/ Q&A
4:55pm – 5:00pm: Closing Remarks
5:00pm – 6:00pm: Networking
Watch highlights of Barracuda Bowl 2019: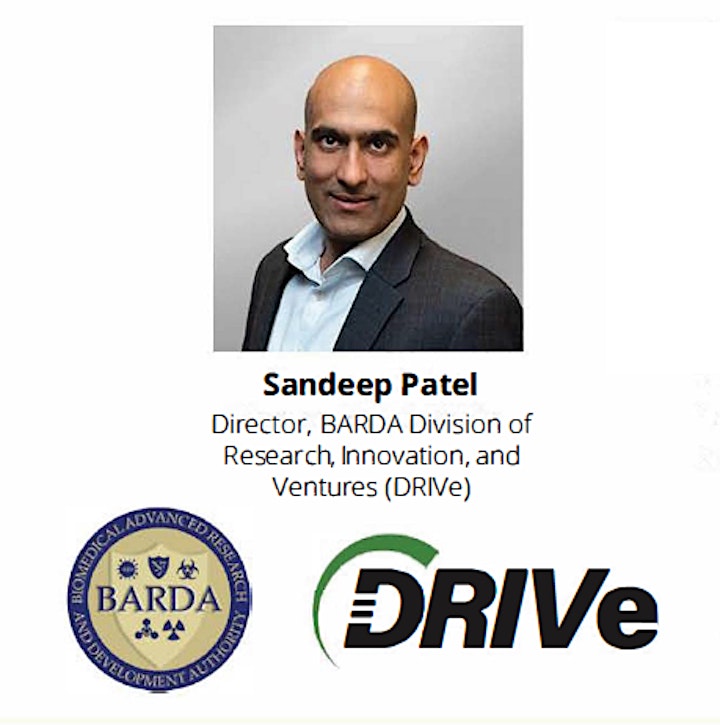 Sandeep currently serves as the Director of BARDA's new Division of Research, Ventures, and Innovation (DRIVe), where he is overseeing a diverse portfolio of health security innovation. Previously he served as Open Innovation Manager in Office of the Chief Technology Officer within the Immediate Office of the Secretary of the U.S. Department of Health & Human Services. In this role he focused on advancing innovative policy and funding solutions to complex, long-standing problems in health. He co-founded and led a new $35M+ public-private partnership KidneyX focused on advancing development and lowering commercialization risk of breakthrough therapies for kidney disease, notably an implantable artificial kidney to displace dialysis. He spearheaded the Administration's Advancing American Kidney Health Initiative, which is reforming the nation's organ transplant system, getting more patients off of dialysis, and incentivizing a focus to prevent kidney failure. He also built a $50M program scaling the use of incentive prizes and crowdsourcing as 21st century problem-solving tools across the family of HHS agencies and its 70,000 employees.
Sandeep is a nanotechnologist by training and has built his career around understanding and guiding scientific and technological insights to building products and services that ultimately improve lives on a global scale. Previously he has served in a number of science policy roles, including as a Mirzayan Science and Technology Policy Fellow at the National Academy of Sciences and as a scientific consultant for Thomson Reuters. He is the recipient of the American Society of Nephrology's President's Medal, honoring those who have transformed kidney care, for which he was also awarded a Secretary's Distinguished Service award. He founded a company in Uganda focused on rapid design and development of novel products for agriculture and health using portable 3D printing services. He holds a PhD in physical chemistry from the Georgia Institute of Technology and a BA in chemistry from Washington University in St. Louis.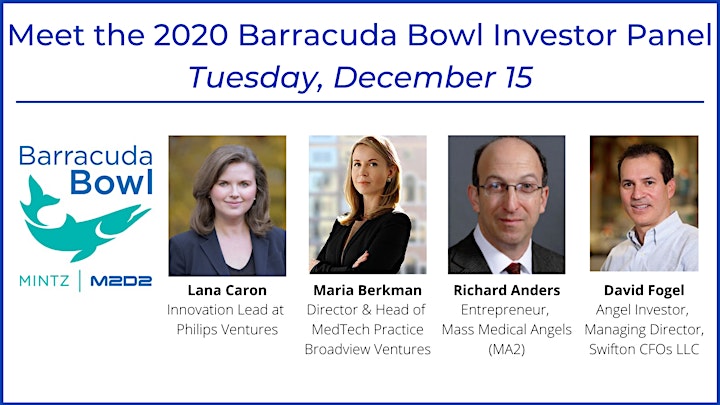 Lana Caron - Philips Healthcare
Lana Caron is a healthtech innovation executive and entrepreneur with an established track record of success launching new ventures, raising capital, and expanding business into new markets. She has been helping startups and multinationals develop plans and accelerate growth for over 15 years. Lana is currently Sr. Director and Innovation Lead at Philips HealthWorks driving external innovation and venturing activities, including scouting, partnership development and deal execution. Prior to joining Philips, Lana served as an independent startup advisor and innovation consultant working with health tech and digital health companies across the healthcare continuum.
Earlier in her career, Lana held senior leadership roles as VP of Sales & Marketing for a digital learning startup, Director of Corporate Development at Sensata Technologies (formerly Texas Instruments) and Manager of Strategy & Business Development at Philips Healthcare. Lana started her career in management consulting with Accenture after earning her MBA and CPA. She is an avid supporter of the Boston innovation community and currently mentors entrepreneurs at MassChallenge and other startup accelerators.
Richard Anders - Mass Medical Angels (MA2)
Richard Anders is a seasoned entrepreneur who has had careers in computers, publishing and consulting, and has a strong personal focus on life sciences and life-science investing. He is the managing director of Rubin/Anders, a leading placement agency for scientific experts in major litigations. Richard is a trustee of the Boston Museum of Science, a former trustee of the Boston Biomedical Research Institute and an overseer of the Gardner Museum.
He is a member of the Institutional Review Board at the Dana Farber Cancer Center, which reviews clinical trials for the hospital. He founded the angel group Launchpad and founded and currently runs MA Medical Angels (MA2), one of the country's leading angel groups focused exclusively on life sciences. He currently serves on the board of Bliss Healthcare, is a board observer at Avaxia Biologics, and served on the board of Quosa, Inc. which was acquired by Elsevier Publishing. Richard also teaches medical device entrepreneurship at the Harvard/MIT HST program. To see his full bio please visit https://forsyth.org/person/board/richard-anders
Maria Berkman - Broadview Ventures
Director, and Head of the MedTech practice, Broadview Ventures.
Maria shares responsibility for all aspects of Broadview's investment activity, from identification and screening of new opportunities, through due diligence, negotiation of deal structure, and portfolio company board involvement.
Prior to joining Broadview Ventures, Maria was a management consultant at Monitor Group, where she specialized in life sciences with a focus on corporate, franchise, and asset-level commercialization strategy and competitive strategic planning for both BioPharma and MedTech clients. Prior to joining Monitor Group, Maria trained within the Partners HealthCare System at Newton Wellesley Hospital in General Surgery. Maria earned an MD from the UCLA School of Medicine, graduating Alpha Omega Alpha with a research focus in cardiothoracic and trauma surgery, and earned an MBA from the Anderson School of Management at UCLA.
Maria serves on the boards of Adient, Aria CV, AtaCor, FineHeart, Vascular Graft Solutions and Vectorious, and previously served on the boards of Apama (acquired by Boston Scientific) and Capricor (NASD:CAPR).
In addition to her role at Broadview Ventures, Maria contributes time as a SBIR/STTR grant reviewer for the National Science Foundation and is a Strategic Advisory Board Member for the RAD BioMed Accelerator in Tel Aviv, Israel.
David Fogel - Angel Investor, Switfton CFOs
David Fogel is Managing Director of Swifton CFOs LLC, an outsourced CFO firm that provides emerging businesses with strategic and cost-effective financial leadership. He is also an active member of the screening and due diligence committees of Beacon Angels, TiE Boston Angels and Mass Medical Angels.
As a contributor to the ongoing development of greater Boston's entrepreneurial ecosystem, he has been an active presenter and panelist with TechStars, MassChallenge, CleanTech Open, The Venture Forum, Greentown Labs, MIT Enterprise Forum, MIT Smart Start Program, M2D2, and YouthCities. He had also presented at entrepreneurial classes at Tufts University, Brandeis University and Brown University.
David is Adjunct Instructor of Finance and Accounting in the MBA and Masters of Engineering programs at Northeastern University.